12.10.2017 | Original Article | Ausgabe 1/2018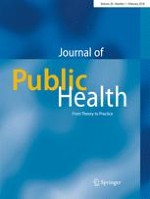 An international comparison of the regional variation in clinical interventions: Germany and Austria
Zeitschrift:
Autoren:

Gerhard Fülöp, Thomas Kopetsch
Wichtige Hinweise
The original version of this article was revised: Due to the existence of another journal with the same name, the Publisher has added a subtitle, "From Theory to Practice." Effective as of January 2018, the new title of this Journal is Journal of Public Health: From Theory to Practice.
Abstract
Aim
In previous international comparisons of regional differences in the utilisation of selected therapies, individual countries have mostly been described in isolation. In the present study, an attempt is made for the first time to systematically compare the utilisation of selected surgical interventions in Germany and Austria at the small-scale level.
Methods
Comparative analyses were carried out for three surgical procedures: artificial hip and knee replacements and cardiopulmonary bypass surgery (CPB) using a heart-lung machine
.
Data were drawn from the German and Austrian diagnosis related groups (DRG) statistics. The regional variation in hospital admission rates was age-standardised and linked to the patients' domicile before being analysed statistically and cartographically, both as a regional cross-section and as a longitudinal survey.
Results
At the county level, the quotients between the highest and the lowest rates in Germany were 2.1 and 3.1 for hip and knee joint replacements respectively, and 2.8 for both in Austria; for CPB interventions the regional variation is somewhat greater, namely 3.7 in Germany and 3.2 in Austria. In recent years, the interquartile distance for the hospital admission rates in individual regions has fluctuated in both countries, so there is no clear indication of a reduction in the regional differences in age-standardised hospital utilisation.
Conclusions
The regional variation in selected surgical procedures can be analysed not only within each country separately, but also for Germany and Austria as a single unit, ignoring the border between them
.
In both countries, the regional cross-sectional analysis at the county level highlights regional distribution patterns whose causes merit further investigation.