01.12.2018 | Research | Ausgabe 1/2018 Open Access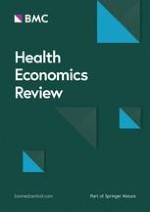 Analysis of multi drug resistant tuberculosis (MDR-TB) financial protection policy: MDR-TB health insurance schemes, in Chhattisgarh state, India
Zeitschrift:
Autoren:

Debashish Kundu, Nandini Sharma, Sarabjit Chadha, Samia Laokri, George Awungafac, Lai Jiang, Miqdad Asaria
Abstract
Introduction
There are significant financial barriers to access treatment for multi drug resistant tuberculosis (MDR-TB) in India. To address these challenges, Chhattisgarh state in India has established a MDR-TB financial protection policy by creating MDR-TB benefit packages as part of the universal health insurance scheme that the state has rolled out in their effort towards attaining Universal Health Coverage for all its residents. In these schemes the state purchases health insurance against set packages of services from third party health insurance agencies on behalf of all its residents. Provider payment reform by strategic purchasing through output based payments (lump sum fee is reimbursed as per the MDR-TB benefit package rates) to the providers – both public and private health facilities empanelled under the insurance scheme was the key intervention.
Aim
To understand the implementation gap between policy and practice of the benefit packages with respect to equity in utilization of package claims by the poor patients in public and private sector.
Methods
Data from primary health insurance claims from January 2013 to December 2015, were analysed using an extension of 'Kingdon's multiple streams for policy implementation framework' to explain the implementation gap between policy and practice of the MDR-TB benefit packages.
Results
The total number of claims for MDR-TB benefit packages increased over the study period mainly from poor patients treated in public facilities, particularly for the pre-treatment evaluation and hospital stay packages. Variations and inequities in utilizing the packages were observed between poor and non-poor beneficiaries in public and private sector. Private providers participation in the new MDR-TB financial protection mechanism through the universal health insurance scheme was observed to be much lower than might be expected given their share of healthcare provision overall in India.
Conclusion
Our findings suggest that there may be an implementation gap due to weak coupling between the problem and the policy streams, reflecting weak coordination between state nodal agency and the state TB department. There is a pressing need to build strong institutional capacity of the public and private sector for improving service delivery to MDR-TB patients through this new health insurance mechanism.