23.11.2020 | Original Paper | Ausgabe 1/2021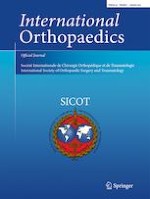 Analysis of twenty-five cases of terrible triad injury of the elbow surgically treated with a single lateral approach
Zeitschrift:
Autoren:

Fushan Hou, Xiao Liang, Wei Fan, Feng Zhao, Dong Li
Wichtige Hinweise
Fushan Hou and Xiao Liang equally contributed to the work.
Publisher's note
Springer Nature remains neutral with regard to jurisdictional claims in published maps and institutional affiliations.
Abstract
Background
The objective was to analyze the long-term clinical outcome of terrible triad injury of the elbow following surgical intervention with a single lateral approach.
Method
We treated twenty-five patients with terrible triad injury of the elbow from July 1, 2017, to June 30, 2020, and performed post hoc analysis. All patients underwent standardized surgery which entailed: plate fixation for the ulnar coronoid process, fixation or replacement of the radial head, and repair of the lateral ligament but not the medial collateral ligament.
Results
We followed up each patient for an average of 22.9 months (range, 12 to 36 months) after surgery. Patients had an average angle scope of elbow flexion and extension that ranged from 8° to 120°. Average pronation of the elbow was 75° (range, 10°–85°), and average supination was 72° (range, 25°–80°). Patient-reported outcome measures were excellent: the DASH and Mayo elbow performance score (MEPS) were 96%. We were unable to follow-up one patient (4%). Among the remaining 24 patients, one patient (4%) presented with heterotopic ossification and stiffness following arthrolysis in the elbow one year after the initial surgery. We did not observe any joint dislocation, subluxation, or joint instability in the elbow after surgery.
Discussion
The single lateral approach, a sequential surgery for terrible triad injury of the elbow, can improve initial stability of the elbow. Patients are able to perform rehabilitative exercises sooner in their recovery, which helps to reduce stiffness. Heterotopic ossification is also reduced.