25.04.2016 | Original Article | Ausgabe 1/2017 Open Access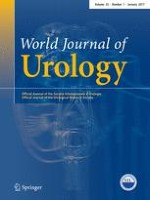 Are you now a good surgeon? T2 positive margin status as a quality outcome measure following radical prostatectomy
Zeitschrift:
Autoren:

Arees Damani, Mieke Van Hemelrijck, Wahyu Wulaningsih, Danielle Crawley, Declan Cahill
Abstract
Objective
To assess potential biases, such as the reporting pathologist, that may affect objectivity of T2 positive margin rates as a quality outcome measure following radical prostatectomy.
Patients and methods
Prospective data on 183 consecutive LRP patients with pT2 disease, operated on by a single surgeon (2003–2009), were studied. Outcomes were grouped as pre-, peri-, and post-operative and included: age, ethnicity, Gleason score, reporting pathologist, percentage of positive cores, operative time, blood loss, nerve-sparing status, hospital stay and prostate weight. Descriptive analysis and logistic regression analysis were carried out to compare these variables by positive margin status.
Results
A total of 30 (16.4 %) positive surgical margins (PSMs) were reported. Surgical stage, earlier date of surgery, and lower prostatic weight showed statistically significant associations with PSM status in both univariate and multivariate analysis. The reporting pathologist was not found to be predictive of PSMs (
P
= 0.855).
Conclusion
We showed that the reporting pathologist does not influence T2 positive margin status, in contrast to tumour characteristics and surgeon experience. T2 positive margin assessment therefore appears to be an objective quality outcome measure.