01.12.2017 | Research article | Ausgabe 1/2017 Open Access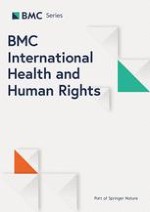 Bibliometric analysis of medicine – related publications on refugees, asylum-seekers, and internally displaced people: 2000 – 2015
Zeitschrift:
Autor:

Waleed M. Sweileh
Abstract
Background
Wars and violent domestic conflicts have forced millions of people to move outside their homes. Meeting the basic health needs of those people requires an understanding of research activity and research output on this topic. The objective of this study was to shed light on the quantity and impact of medicine – related publications on refugees, asylum seekers and internally displaced people (IDP).
Method
Scopus database was used to retrieve required data. Specifically, the number of publications, top productive countries and institutions, highly cited articles, citation analysis, international collaboration, and journals involved in publishing articles on refugees, asylum seekers and IDP were reviewed and analyzed. The time span for the study was set from year 2000 to 2015.
Results
Two thousands five hundred and thirty publications were retrieved. The
h
-index of retrieved articles was 64. A steep rise in number of publications was noticed after 2011. Top productive countries were the United States of America, Australia and the United Kingdom. The American public health institute (Centers for Disease Control and Prevention) and the United Nations refugee agency were among the top active organizations on this topic. Active journals in publishing on health of refugees, asylum seekers and IDP were those on mental health, psychology, public health and general medicine. Publications on Somali, Afghani, Iraqi, and Syrian refugees received a significant share of medicine-related publications. Analysis of publications based on region showed that publications on refugees from Middle East is rising sharply and is approaching those on African refugees.
Conclusion
Bibliometric analysis reveals that research publications on refugees have been increasing in a dramatic way and articles are being published in journals with high impact factor and international reputation, not only in general medicine and public health, but also mental health and psychology journals. Analysis of publications related to refugees can be helpful to international health agencies and governments not only to document the psychological trauma of fled people, but also to identify best mental health programs to face the consequences of wars and aggression that led to this refugee crisis.