01.12.2018 | Case report | Ausgabe 1/2018 Open Access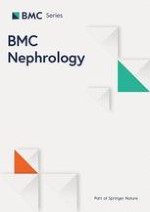 Bilineal inheritance of pathogenic
PKD1

and

PKD2

variants in a Czech family with autosomal dominant polycystic kidney disease – a case report
Zeitschrift:
Autoren:

Veronika Elisakova, Miroslav Merta, Jana Reiterova, Alica Baxova, Jaroslav Kotlas, Katerina Hirschfeldova, Lena Obeidova, Vladimir Tesar, Jitka Stekrova
Abstract
Background
Autosomal dominant polycystic kidney disease (ADPKD) is the most common hereditary renal disorder, leading to end stage renal failure and kidney transplantation in its most serious form. The severity of the disease's manifestation depends on the genetic determination of ADPKD. The huge variability of different phenotypes (even within a single family) is not only modulated by the two main ADPKD genes (
PKD1
and
PKD2
) but also by modifier genes and the whole genetic background.
Case presentation
This is a report of an ADPKD family with co-inheritance of
PKD1
and
PKD2
pathogenic variants. The proband, with an extremely serious manifestation of ADPKD (the man was diagnosed in early childhood, and with end stage renal disease aged 23), underwent genetic analysis of
PKD1
and
PKD2
, which revealed the presence of pathogenic mutations in both of these genes. The missense
PKD2
mutation p.Arg420Gly came from the proband's father, with a mild ADPKD phenotype. The same mutation of the
PKD2
gene and similar mild disease presentation were found in the proband's aunt (father's sister) and her son. The nonsense mutation p.Gln2196* within the
PKD1
gene was probably inherited from the proband's mother, who died at the age of 45. It was only discovered post mortem, that the real cause of her death was kidney failure as a consequence of untreated ADPKD. Unfortunately, neither the DNA of the proband's mother nor the DNA of any other family members from this side of the pedigree were available for further examination. The proband underwent successful cadaveric kidney transplantation at the age of 24, and this replacement therapy lasted for the next 15 years.
Conclusions
Here, we present a first case of bilineal ADPKD inheritance in the Czech Republic. This report highlights the significant role of modifier genes in genetic determination of ADPKD, especially in connection with seriously deteriorated disease phenotypes. In our case, the modifying role is probably mediated by the
PKD2
gene.