23.11.2016 | Review article | Ausgabe 4/2017 Open Access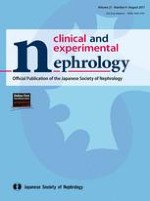 C3 glomerulopathy and current dilemmas
Zeitschrift:
Autoren:

Naoko Ito, Ryuji Ohashi, Michio Nagata
Wichtige Hinweise
The original version of this article was revised due to a retrospective Open Access order.
Abstract
C3 glomerulopathy (C3G) is a recently identified disease entity caused by dysregulation of the alternative complement pathway, and dense deposit disease (DDD) and C3 glomerulonephritis (C3GN) are its components. Because laboratory detection of complement dysregulation is still uncommon in practice, "dominant C3 deposition by two orders greater than that of immunoglobulins in the glomeruli by immunofluorescence", as stated in the consensus report, defines C3G. However, this morphological definition possibly includes the cases with glomerular diseases of different mechanisms such as post-infectious glomerulonephritis. In addition, the differential diagnosis between DDD and C3GN is often difficult because the distinction between these two diseases is based solely on electron microscopic features. Recent molecular and genetic advances provide information to characterize C3G. Some C3G cases are found with genetic abnormalities in complement regulatory factors, but majority of cases seem to be associated with acquired factors that dysregulate the alternative complement pathway. Because clinical courses and prognoses among glomerular diseases with dominant C3 deposition differ, further understanding the background mechanism, particularly complement dysregulation in C3G, is needed. This may resolve current dilemmas in practice and shed light on novel targeted therapies to remedy the dysregulated alternative complement pathway in C3G.