01.12.2008 | Original Investigation | Ausgabe 4/2008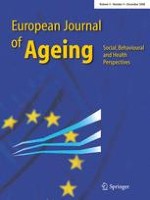 Care utilisation in the last years of life in relation to age and time to death: results from a Swedish urban population of the oldest old
Zeitschrift:
Autoren:

Kristina Larsson, Ingemar Kåreholt, Mats Thorslund
Abstract
The majority of older people experience progressive disability at the end of their lives and require long-term care as a result. This study analysed patterns of care utilisation during the 5 years prior to death, particularly the effects of age and time to death in relation to the use of public elder care (i.e. home help services and institutional care) and hospital care. A longitudinal study provided data on care utilisation among participants (aged 83+) who died between 1995 and 2004 (
n
= 567). Almost everyone received some kind of care in the last 5 years, 91% in the last year and 88% in the last 3 months preceding death. The number of days of elder care outnumbered the number of days in hospital by ten to one. Increasing chronological age was important for receipt of home help, whereas time to death was important for admission to hospital; there was a sharp increase in the proportion treated in hospital in the last 9 months before death. The proportion residing in institutional care facilities with around-the-clock care increased steadily with a sharper gradient 6 months before death. Both age and time to death had an effect on use of institutional care, but time to death had twice the effect of increasing age. In conclusion, age and time to death have different effects depending on the type of care studied, and individual-based longitudinal data gives a very different picture of care utilisation among the oldest old compared to cross-sectional data.