01.12.2018 | Research article | Ausgabe 1/2018 Open Access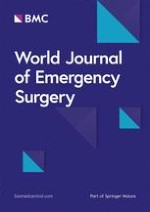 Casualties of peace: an analysis of casualties admitted to the intensive care unit during the negotiation of the comprehensive Colombian process of peace
Zeitschrift:
Autoren:

Carlos A. Ordoñez, Ramiro Manzano-Nunez, Maria Paula Naranjo, Esteban Foianini, Cecibel Cevallos, Maria Alejandra Londoño, Alvaro I. Sanchez Ortiz, Alberto F. García, Ernest E. Moore
Abstract
Background
After 52 years of war in 2012, the Colombian government began the negotiation of a process of peace, and by November 2012, a truce was agreed. We sought to analyze casualties who were admitted to the intensive care unit (ICU) before and during the period of the negotiation of the comprehensive Colombian process of peace.
Methods
Retrospective study of hostile casualties admitted to the ICU at a Level I trauma center from January 2011 to December 2016. Patients were subsequently divided into two groups: those seen before the declaration of the process of peace truce (November 2012) and those after (November 2012–December 2016). Patients were compared with respect to time periods.
Results
Four hundred forty-eight male patients were admitted to the emergency room. Of these, 94 required ICU care. Sixty-five casualties presented before the truce and 29 during the negotiation period. Median injury severity score was significantly higher before the truce. Furthermore, the odds of presenting with severe trauma (ISS > 15) were significantly higher before the truce (OR, 5.4; (95% CI, 2.0–14.2);
p
 < 0.01). There was a gradual decrease in the admissions to the ICU, and the performance of medical and operative procedures during the period observed.
Conclusion
We describe a series of war casualties that required ICU care in a period of peace negotiation. Despite our limitations, our study presents a decline in the occurrence, severity, and consequences of war injuries probably as a result in part of the negotiation of the process of peace. The hysteresis of these results should only be interpreted for their implications in the understanding of the peace-health relationship and must not be overinterpreted and used for any political end.