01.12.2012 | Research | Ausgabe 1/2012 Open Access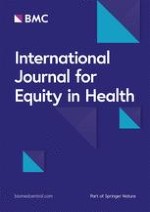 Characteristics of the population eligible for and receiving publicly funded bariatric surgery in Canada
Zeitschrift:
Autoren:

Raj S Padwal, Hsui-Ju Chang, Scott Klarenbach, Arya M Sharma, Sumit R Majumdar
Wichtige Hinweise
Electronic supplementary material
The online version of this article (doi:
10.​1186/​1475-9276-11-54
) contains supplementary material, which is available to authorized users.
Competing interests
RP, SWK, SM and AMS are supported by an alternative funding plan from the Government of Alberta and the University of Alberta. AMS is supported by an Alberta Health Services Chair in Obesity Research and Management. SWK and SM hold salary support awards from Alberta Heritage Foundation for Medical Research and Alberta Innovates-Health Solutions. The authors declare no competing interest with respect to this work.
Authors' contributions
RP developed the initial study concept, which was refined after input from all of the other authors. HC and RP performed data analysis. RP wrote the initial draft, which was critically revised by all other authors. All authors read and approved the final manuscript.
Abstract
Background
Bariatric surgery is the most effective current treatment for severe obesity. Capacity to perform surgery within Canada's public health system is limited and potential candidates face protracted wait times. A better understanding of the gaps between demand for surgery and the capacity to provide it is required. The purpose of this study was to quantify and characterize the bariatric surgery-eligible population in Canada in comparison to surgery-ineligible subjects and surgical recipients.
Methods
Data from adult (age > 20) respondents of the 2007–09 nationally representative Canadian Health Measures Survey (CHMS) were analyzed to estimate the prevalence and characteristics of the surgery-eligible and ineligible populations. Federally mandated administrative healthcare data (2007–08) were used to characterize surgical recipients.
Results
In 2007–09, an estimated 1.5 million obese Canadian adults met eligibility criteria for bariatric surgery. 19.2 million were surgery-ineligible (3.4 million obese and 15.8 million non-obese). Surgery-eligible Canadians had a mean BMI of 40.1 kg/m2 (95% CI 39.3 to 40.9 kg/m2) and, compared to the surgery-ineligible obese population, were more likely to be female (62 vs. 44%), 40–59 years old (55 vs. 48%), less educated (43 vs. 35%), in the lowest socioeconomic tertile (41 vs. 34%), and inactive (73 vs. 59%). Self-rated mental health and quality of life were lower and comorbidity was higher in surgery-eligible respondents compared with the ineligible populations. The annual proportion of Canadians eligible for surgery that actually underwent a publicly funded bariatric surgery between 2007–09 was 0.1%. Surgical recipients (n = 847) had a mean age of 43.6 years (SD 11.1) and 82% were female. With the exception of type 2 diabetes, obesity-related comorbidity prevalence was much lower in surgical recipients compared to those eligible for surgery.
Conclusions
The proportion of bariatric surgery-eligible Canadians that undergo publicly funded bariatric surgery is very low. There are notable differences in sociodemographic profiles and prevalence of comorbidities between surgery-eligible subjects and surgical recipients.