01.12.2018 | Research | Ausgabe 1/2018 Open Access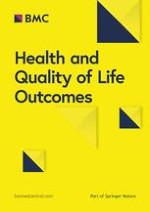 CHF-PROM: validation of a patient-reported outcome measure for patients with chronic heart failure
Zeitschrift:
Autoren:

Jing Tian, Jiangping Xue, Xiaojuan Hu, Qinghua Han, Yanbo Zhang
Wichtige Hinweise
Electronic supplementary material
Abbreviations
CAID
Cronbach's α if item deleted
CFA
Confirmatory factor analysis
CHF-PROM
Patient-reported outcome measure for chronic heart failure
CITC
Corrected item-total correlation
HRQoL
Health-related quality of life
PROs
Patient-reported outcomes
Background
Therefore, developing a Chinese questionnaire, specifically one that is culturally relevant to mainland China, is necessary because the management of CHF strongly depends on the different societal value systems, medical provision priorities, and economic environments in this country. We herein propose a measure based on PROs for patients with chronic HF to improve the current questionnaire for cardiovascular disease and guide clinical treatment.
Methods
Results
Discussion
As a chronic disorder, CHF requires special management from patients and their families, including adjustment of daily habits, liquid management, and heart rate management. Based on detailed PROs, medical professionals can provide individual instructions to patients to improve their quality of life and reduce re-hospitalization and mortality rates [
36
]. We established the present CHF-PROM because of the brevity of previous HF questionnaires, which were translated directly from aboard and focused little on social support and therapy status. We applied four domains (physical domain, psychological domain, social domain, and therapeutic domain) and performed large-scale survey for the healthy subjects and patients with CHF in 8 hospitals to generate this CHF-PROM, which can more fully reflect the health status of patients with CHF.
We developed the present CHF-PROM in compliance with the development principles and processes of international scales. The CHF-PROM was developed in three stages: generation of the item pool, a pilot survey to form the preliminary scale, and use of large-scale clinical trials to form the final scale. To ensure that each selected item was sensitive, representative, and independent, we adopted different statistical methods in the process of generating the scale. The average time spent performing PRO data collection was about 15 min. This is thought to have been an acceptable time for the inpatients. During this time period, the inpatients could complete the questionnaires and provide accurate responses. The time of data collection should be controlled when performing a questionnaire-based study. The timing of data collection might have influenced the responses.
The methods employed to develop related scales are still limited to CTT [
37
]. Our study is innovative in that IRT was applied in addition to CTT. IRT has some advantages over CTT. Using IRT, estimation of parameters is independent the number of measured subjects. It is also possible to indicate the accuracy of the test capability [
38
–
40
]. Besides statistical methods, clinical professional knowledge was also required during the process of item selection. The item "PHD18: Do you often feel nauseous?" met the requirements of statistical methods for item selection, but it did not describe a typical symptom of CHF; therefore, we deleted this item. Ten items were removed based on joint consideration of the CTT results, IRT results, and clinical knowledge. The final scale contained 57 items, 12 subdomains, and 4 domains.
We also evaluated the reliability, validity, and feasibility of the scale for 360 patients and 100 healthy subjects. The results showed that this novel scale is a reliable instrument. The CHF-PROM was generated to overcome the deficiencies in the existing HF scales. However, this study had some limitations. First, some problems exist in the personal basic information section of the scale. Economic income and consumption levels vary among different provinces and cities, making adoption of a single evaluating system of QoL inappropriate for patients with CHF. Previous studies have reported that patients' incomes, living conditions, life events, and education levels are the main factors influencing mental health, and among them, income most strongly affects living conditions and life events. Thus, income and educational level are included in the basic information of the scale [
41
]. Second, some problems exist in selection of the items. We removed four items with poor sensitivity, independence, representativeness, and discrimination in the preliminary experiment. Our results suggest that every aspect should be considered in the future design of relevant scales. Finally, although our large-scale survey has indicated that CHF-PROM is a valid instrument, our samples were collected in only a limited area and are not completely representative of all patients with CHF. To further revise and improve the scale, more efforts are needed to extract larger numbers of patients from different provinces and regions and even different countries for cross-language scale adjustment to develop a CHF-PROM with wider applicability [
42
]. And these adjusted versions also need a validation that must be done separately from this Chinese version.
Conclusion
In this study, we developed a CHF-PROM that showed better reliability, validity, and feasibility than previously established scales. The CHF-PROM provided the patients a greater chance to participate in treatment decisions, suggesting that PROs can be used in more clinical trials and diagnostic settings in the future. This will allow doctors to obtain more comprehensive medical information, and PROs will become an important indicator of the end-point in curative effects.
Acknowledgements
We are grateful for the cooperation of the community hospitals in Taiyuan City. We also thank Angela Morben, DVM, ELS, from Liwen Bianji, Edanz Editing China (
www.​liwenbianji.​cn/​ac
), for editing the English text of a draft of this manuscript.
Funding
This study was funded by the National Nature Science Foundation of China(Grant No. 81273180) and the Key Research and Development Project of Shanxi Province(Grant No. 201603D321101).
Availability of data and materials
Please contact the corresponding author for the study data, which will be granted upon reasonable request.
Ethics approval and consent to participate
The study protocol received medical and ethical approval from Shanxi Medical University. All participants provided written informed consent and received compensation for their time and effort.
Consent for publication
All authors have approved the manuscript for publication.
Competing interests
The authors declare that they have no competing interests.
Publisher's Note
Springer Nature remains neutral with regard to jurisdictional claims in published maps and institutional affiliations.
Open Access
This article is distributed under the terms of the Creative Commons Attribution 4.0 International License (
http://​creativecommons.​org/​licenses/​by/​4.​0/​
), which permits unrestricted use, distribution, and reproduction in any medium, provided you give appropriate credit to the original author(s) and the source, provide a link to the Creative Commons license, and indicate if changes were made. The Creative Commons Public Domain Dedication waiver (
http://​creativecommons.​org/​publicdomain/​zero/​1.​0/​
) applies to the data made available in this article, unless otherwise stated.