01.12.2018 | Research article | Ausgabe 1/2018 Open Access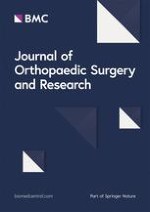 Clinical experience of debridement combined with resorbable bone graft substitute mixed with antibiotic in the treatment for infants with osteomyelitis
Zeitschrift:
Autoren:

Zhiqiang Zhang, Hao Li, Hai Li, Qing Fan, Xuan Yang, Pinquan Shen, Ting Chen, Qixun Cai, Jing Zhang, Ziming Zhang
Wichtige Hinweise
Zhiqiang Zhang and Hao Li contributed equally to this work.
Abstract
Background
Osteomyelitis (OM) is an uncommon disease that originates from many different mechanisms in children. Treatment often involves a combination of surgical debridement combined and antibiotic therapy. The purpose of this article is to evaluate the effect of debridement combined with a new resorbable bone graft substitute (RBGS) mixed with antibiotics in the treatment of infants with OM.
Methods
Twenty-two patients diagnosed with OM at our institution underwent debridement combined with implantation of RBGS mixed with vancomycin within 48 h after admission. Clinical and epidemiological factors, preoperative and postoperative radiographs, and laboratory parameters, including white blood cell (WBC), C-reactive protein (CRP), erythrocyte sedimentation rate (ESR), and neutrophil percentage (NEU%), were documented. The function of the involved extremity was evaluated at the final follow-up.
Results
The mean age was 6.3 ± 4.8 months (range, 0.5 to 12 months). The mean duration of the symptoms was 14.5 ± 8.4 days (range, 2 to 30 days). The average length of hospitalization was 13.7 ± 6.2 days (range, 6 to 28 days). 13.64% (3/22) had positive results of purulent material obtained at the time of open biopsy and 18.18% (4/22) had positive blood cultures. The most common sites were located in the proximal femur (12), the distal femur (3), and the proximal humerus (3). Ten patients presented with concurrent pyogenic arthritis, while another 12 infants suffered from simple isolated hematogenous OM. The mean follow-up time was 3.0 ± 1.6 years (range, 1.0 to 6.0 years). Seven of 22 patients (31.82%) had complications such as limb length deformity (LLD), avascular necrosis (AVN), and pathologic subluxation of the hip. Fifteen out of 22 (68.18%) patients achieved good results. Additionally, patients who had concomitant pyogenic arthritis were more likely to develop complications than those with isolated OM (
p
 = 0.02).
Conclusions
Early debridement combined with implantation of RBGS mixed with vancomycin in the treatment of infants with OM achieved acceptable results in this series. Compared to those with simple isolated OM, patients with secondary pyogenic arthritis had a more virulent course.