01.12.2018 | Research article | Ausgabe 1/2018 Open Access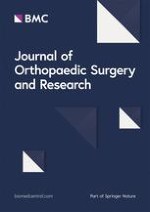 Clinical manifestation and arthroscopic treatment of symptomatic posterior cruciate ligament cyst
Zeitschrift:
Autoren:

Kai Tie, Hua Wang, Xinyu Zhao, Yang Tan, Jun Qin, Liaobin Chen
Wichtige Hinweise
Electronic supplementary material
Abstract
Background
Ganglion cyst of cruciate ligaments is a rare lesion; the prevalence is 0.3–0.8%. The purpose of this study was to present clinical features of symptomatic posterior cruciate ligament (PCL) cyst, introduce the arthroscopic excision technique, and evaluate the clinical outcome.
Methods
A series of 11 patients with symptomatic PCL cyst from November 2012 to December 2014 were involved in this retrospective study. Detailed medical history collecting and physical examination were conducted. Magnetic resonance imaging (MRI) scan was used to confirm the diagnosis. Arthroscopic resection was performed, and the sample of the cyst was taken for pathologic examination. The follow-up averaged 30.7 months. International Knee Documentation Committee (IKDC) score, the range of motion (ROM), and MRI evaluations were obtained pre- and postoperatively to assess the surgical outcome. SPSS software was used for statistics analysis.
Results
Eight males and 3 females with 6 left knees and 5 right knees were enrolled, the mean age was 34.4 years, and the duration of symptom was 19.0 months. All cases had a definite history of knee trauma or injury. The most common symptom was knee pain at flexion or in flexion-associated activities. MRI revealed the location and size of the cyst in each case. Pathologic examination showed the cyst wall was composed of dense fibroconnective tissue and widespread thick bundles of collagen, which is similar to the structure of ganglion cyst. At the final follow-up, MRI evaluation showed no cyst recurrence. The preoperative ROM and IKDC score were 2.3° to 108.6° and 40.5 ± 11.3, respectively, compared with the postoperative ROM and IKDC score which were 0° to 134.1° and 85.5 ± 4.8 (
p
 < 0.05) separately.
Conclusions
We conclude that the etiology of symptomatic PCL cyst is most likely associated with trauma, pain on flexion is a typical manifestation of symptomatic PCL cyst, MRI evaluation is an ideal examination for the diagnosis, and arthroscopic resection of symptomatic PCL cysts has a good outcome with no recurrence.