01.06.2007 | Original Paper | Ausgabe 3/2007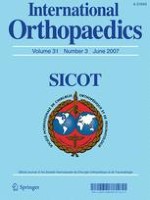 Comparison of the use of the humerus intramedullary nail and dynamic compression plate for the management of diaphyseal fractures of the humerus. A randomised controlled study
Zeitschrift:
Autoren:

M. Changulani, U. K. Jain, Tulsi Keswani
Abstract
The aim of this study was to compare the results of the humerus intramedullary nail (IMN) and dynamic compression plate (DCP) for the management of diaphyseal fractures of the humerus. Forty-seven patients with diaphyseal fracture of the shaft of the humerus were randomised prospectively and treated by open reduction and internal fixation with IMN or DCP. The criteria for inclusion were grade 1 or 2a compound fractures, polytrauma, early failure of conservative treatment and unstable fractures. The patients with pathological fractures, grade 3 open fractures, refractures and old neglected fractures of the humerus were excluded from the study. Twenty-three patients underwent internal fixation by IMN and 24 by DCP. Reamed antegrade nailing was done in all cases. DCP was done through an anterolateral or posterior approach. The outcome was assessed in terms of the union time, union rate, functional outcome and the incidence of complications. Functional outcome was assessed using the American Shoulder and Elbow Surgeons' Score (ASES). On comparing the results by independent samples
t
test, there was no significant difference in ASES scores between the two groups (
P
>0.05). The average union time was found to be significantly lower for IMN as compared to DCP (
P
<0.05). The union rate was found to be similar in both groups. Complications such as infection were found to be higher with DCP as compared to IMN, while shortening of the arm (1.5–4 cm) and restriction of shoulder movements due to impingement by the nail were found to be higher with IMN as compared to DCP. However, this improved in all patients following the removal of the nail once the fracture had healed. This study proves that IMN can be considered a better surgical option for the management of diaphyseal fractures of the humerus as it offers a short union time and lower incidence of serious complicatins like infection. However, there appears to be no difference between the two groups in terms of the rate of union and functional outcome.