01.03.2015 | Symposium: 2013 Meetings of the Musculoskeletal Tumor Society and the International Society of Limb Salvage | Ausgabe 3/2015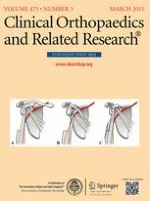 Does Competing Risk Analysis Give Useful Information About Endoprosthetic Survival in Extremity Osteosarcoma?
Zeitschrift:
Autoren:

MD Reinhard Schuh, MSc Alexandra Kaider, MD Reinhard Windhager, MD Philipp T. Funovics
Wichtige Hinweise
Each author certifies that he or she, or a member of his or her immediate family, has no funding or commercial associations (eg, consultancies, stock ownership, equity interest, patent/licensing arrangements, etc) that might pose a conflict of interest in connection with the submitted article.
All ICMJE Conflict of Interest Forms for authors and
Clinical Orthopaedics and Related Research
®
editors and board members are on file with the publication and can be viewed on request.
Clinical Orthopaedics and Related Research
®
neither advocates nor endorses the use of any treatment, drug, or device. Readers are encouraged to always seek additional information, including FDA-approval status, of any drug or device prior to clinical use.
Each author certifies that his or her institution approved the human protocol for this investigation, that all investigations were conducted in conformity with ethical principles of research, and that informed consent for participation in the study was obtained.
Abstract
Background
Conventional survival analysis for endoprosthetic complications does not consider competing events adequately. Patients who die of their disease are no longer at risk for complications; therefore, death as a competing event may alter survivorship estimates in the orthopaedic-oncological setting.
Questions/purposes
This investigation aimed to compare (1) endoprosthetic survivorship after osteosarcoma by Kaplan-Meier analysis; and (2) by a competing risk model.
Methods
Between 1981 and 2009, we performed 247 modular endoprostheses for patients with extremity osteosarcoma; 73 patients had a followup of less than 2 years but all patients were included in statistical analysis. No patients were lost to followup for reasons other than death. Revision-free endoprosthetic survival until soft tissue failure (Type 1), aseptic loosening (Type 2), structural failure (Type 3), infection (Type 4), and local tumor progression (Type 5) was estimated according to a Kaplan-Meier analysis and a competing risk model. Sixty-four patients died throughout followup; the 5- and 10-year overall survival and metastasis-free survival were 72% and 70% and 70% and 69%, respectively. One hundred twenty-two patients (49%) had complications.
Results
Competing risk analysis consistently resulted in reduced estimates of the frequency of complications and reconstructive failures compared with Kaplan-Meier analysis. Cumulative risks for complication Types 1 to 5 at 10 years without/with death as a competing event revealed a risk of 19%/16% for Type 1, 26%/20% for Type 2, 51%/38% for Type 3, 23%/20% for Type 4, and 4%/3% for Type 5.
Conclusions
A competing risk model reveals considerably reduced risks for every complication compared with Kaplan-Meier analysis when death is included as a competing event. Because it more realistically represents the risks of complications, competing risk models should be used to arrive at risk estimates for purposes of counseling patients about those risks associated with modular endoprosthetic reconstruction.
Level of Evidence
Level III, therapeutic study. See Guidelines for Authors for a complete description of levels of evidence.