11.11.2017 | Original Paper | Ausgabe 5/2018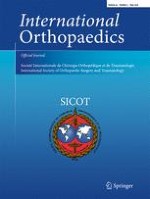 Double-level bone transport for large post-traumatic tibial bone defects: a single centre experience of sixteen cases
Zeitschrift:
Autoren:

Yanlong Zhang, Yong Wang, Jun Di, Aqin Peng
Abstract
Purpose
The aim of this study was to evaluate the clinical and functional outcomes of patients with large post-traumatic tibial bone defects managed by double-level bone transport using the Ilizarov technique.
Methods
We retrospectively reviewed 16 patients of 39.1 years (range, 16.0–65.0 years). The bone defects averaged 10.9 ± 3.8 cm (range: 6.0 cm–20.0 cm) after radical resection and were managed by double-level bone transport. Bone and functional results were evaluated according to the ASAMI criteria.
Results
The mean duration of follow-up after frame removal was 29.5 ± 1.8 months (range, 12.0–36.0 months). All patients achieved complete union in both the regenerates and the docking site and eradication of infection. The mean bone transport time was 55.6 ± 23.7 days (range, 30.0–125.0 days). The mean external fixation time was 12.0 ± 3.9 months (range, 5.0–18.0 months), and the mean external fixation index was 1.1 ± 0.3 months/cm (rang, 0.8–2.0 months/cm). The bone results were excellent in ten patients and poor in six patients. The functional results were excellent in 12 patients and good in four patients.
Conclusion
Double-level bone transport is a safe, reliable, and successful method for large post-traumatic tibial bone defects. Furthermore, this technique can reduce bone transport time, time in frame, and total treatment time in one stage.