01.12.2018 | Research article | Ausgabe 1/2018 Open Access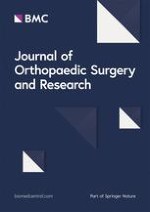 Endoscopic release of congenital muscular torticollis with radiofrequency in teenagers
Zeitschrift:
Autoren:

Jun-liang Wang, Wei Qi, Yu-jie Liu
Abstract
Background
Congenital muscular torticollis (CMT) is due to contracture of the sternocleidomastoid muscle which may cause activity limitations of the neck, tilt of the head, craniofacial asymmetry, and deformity of the skull. The authors present their experience of arthroscopic tight fibrous band release with radiofrequency in teenagers under local anesthesia and evaluate the clinical results.
Methods
A total of 69 patients who underwent arthroscopic release of CMT with radiofrequency under local anesthesia by a single surgeon could participate in this study. Before operation, surface landmarks of sternocleidomastoid muscle, bone, and neurovascular structures were marked. Local infiltrating anesthesia of the surgical region was then performed. Through a working space created by blunt dissection, the arthroscopy and radiofrequency devices were introduced. Then, the clavicular and sternal heads of the sternocleidomastoid muscle were identified and gradually transected. The patients were followed up postoperatively with Cheng's scoring system.
Results
There were 31 male patients and 38 female patients. The mean age of the patients was 16.1 years. The mean length of follow-up in this series was 36.7 months (range, 28 to 67 months). During the operation, 62 patients (89.9%) had no pain, 6 patients (8.7%) felt mild pain, and only 1 patient (1.4%) regarded the procedure as very painful. At all follow-up periods, there were no repeat arthroscopies for any of these patients. At the final follow-up, the average rotation deficit improved from 22.5° to 4.1° postoperatively, and the average lateral bending deficit improved from 14.6° to 3.3° (
p
 < 0.05). Overall, the clinical result was good or excellent in 65 patients (94.2%), fair in 4 patients, and poor in 0 patients within the follow-up period according to Cheng's scoring system. To date, no patients had any intraoperative or postoperative complications from this procedure.
Conclusion
The arthroscopic release with radiofrequency under local anesthesia provides surgeons with an alternative to traditional open techniques for the management of congenital muscular torticollis (CMT). Our date shows that this method is minimally invasive and provides good functional recovery with a lower risk of complications.