01.12.2018 | Research | Ausgabe 1/2018 Open Access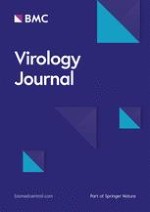 Engineered recombinant protein products of the avian paramyxovirus type-1 nucleocapsid and phosphoprotein genes for serological diagnosis
Zeitschrift:
Autoren:

Na Zhao, Christian Grund, Martin Beer, Timm C. Harder
Wichtige Hinweise
Electronic supplementary material
Abstract
Background
Virulent Newcastle disease virus (NDV, avian Avulavirus-1, APMV-1) induces a highly contagious and lethal systemic disease in gallinaceous poultry. APMV-1 antibody detection is used for surveillance and to control vaccination, but is hampered by cross-reactivity to other subtypes of avian Avulaviruses. Data are lacking concerning the applicability of NDV V proteins as differential diagnostic marker to distinguish vaccinated from virus-infected birds (DIVA strategy).
Methods
Full length and C-terminally truncated nucleocapsid (NP) protein, and the unique C-terminal regions of the phospho- (P) and V proteins of the NDV LaSota strain were bacterially expressed as fusion proteins with the multimerization domain of the human C4 binding protein, and used as diagnostic antigens in indirect ELISA.
Results
When used as diagnostic antigen in indirect ELISAs, recombinant full-length proved to be a sensitive target to detect seroconversion in chickens after APMV-1 vaccination and infection, but revealed some degree of cross reactivity with sera raised against other APMV subtypes. Cross reactivity was abolished but also sensitivity decreased when employing a C-terminal fragment of the NP of NDV as diagnostic antigen. Antibodies to the NDV V protein were mounted in poultry following NDV infection but also, albeit at lower rates and titers, after vaccination with attenuated NDV vaccines. V-specific seroconversion within the flock was incomplete and titers in individual bird transient.
Conclusions
Indirect ELISA based on bacterially expressed recombinant full-length NP compared favorably with a commercial NDV ELISA based on whole virus antigen, but cross reactivity between the NP proteins of different APMV subtypes could compromise specificity. However, specificity increased when using a less conserved C-terminal fragment of NP instead. Moreover, a serological DIVA strategy built on the NDV V protein was not feasible due to reduced immunogenicity of the V protein and frequent use of live-attenuated NDV vaccines.