01.12.2018 | Review | Ausgabe 1/2018 Open Access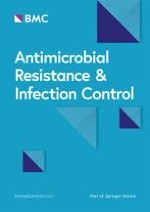 Enhancing pharmacists' role in developing countries to overcome the challenge of antimicrobial resistance: a narrative review
Zeitschrift:
Autoren:

M. H. F. Sakeena, Alexandra A. Bennett, Andrew J. McLachlan
Abstract
Background
Antimicrobial resistance (AMR) is a global health challenge and developing countries are more vulnerable to the adverse health impacts of AMR. Health care workers including pharmacists can play a key role to support the appropriate use of antimicrobials in developing countries and reduce AMR.
Objective
The aim of this review is to investigate the role of pharmacists in the appropriate use of antibiotics and to identify how the pharmacists' role can be enhanced to combat AMR in developing countries.
Method
The databases MEDLINE, EMBASE, Web of Science and Google Scholar were searched for articles published between 2000 and the end of August 2017 that involved studies on the role of pharmacists in developing countries, the expanded services of pharmacists in patient care in developed countries and pharmacists' contributions in antimicrobial use in both developed and developing nations.
Key findings
In developing countries pharmacists role in patient care are relatively limited. However, in developed nations, the pharmacists' role has expanded to provide multifaceted services in patient care resulting in improved health outcomes from clinical services and reduced health care costs. Success stories of pharmacist-led programs in combating AMR demonstrates that appropriately trained pharmacists can be part of the solution to overcome the global challenge of AMR. Pharmacists can provide education to patients enabling them to use antibiotics appropriately. They can also provide guidance to their healthcare colleagues on appropriate antibiotic prescribing.
Conclusions
This review highlights that appropriately trained pharmacists integrated into the health care system can make a significant impact in minimising inappropriate antibiotic use in developing countries. Strengthening and enhancing the pharmacists' role in developing countries has the potential to positively impact the global issue of AMR.