04.12.2017 | Original Article | Ausgabe 2/2018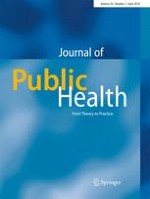 Epidemiological and rehabilitation analyses of patients with hearing disabilities of Uyghur and Han Chinese ethnicities in Xinjiang, China: a comparative study
Zeitschrift:
Autoren:

Le Wang, Alim Aili, Qin Liu, Yu Chen, Hua Yao
Wichtige Hinweise
The original version of this article was revised: Due to the existence of another journal with the same name, the Publisher has added a subtitle, "From Theory to Practice." Effective as of January 2018, the new title of this Journal is
Journal of Public Health: From Theory to Practice.
Abstract
Aim
The main objective of this study was to explore the differences in epidemiological characteristics and rehabilitation needs between Uyghur and Han Chinese ethnicities, with a view to providing a foundation for the development of effective hearing-disability rehabilitation policies in Xinjiang, China. We conducted a population-based epidemiological study. The epidemiological characteristics of the aural disabilities were examined and demand for aural rehabilitation services evaluated. We further investigated the demographic characteristics of the hearing-disability populations from different ethnic communities in Xinjiang and the social-environmental support provided.
Subjects and methods
Subjects were randomly selected from individuals aged 2 years and above with a hearing disability who were registered in the Xinjiang Disabled Persons' Federation. Analyses were performed on two population groups (Uyghur and Han Chinese ethnicities) in Xinjiang, China. Subjects were selected via simple random sampling, and the χ2 test was used for data analysis.
Results
Our results disclosed a higher prevalence of hearing disabilities in males than females. Moreover, the recovery service demand rate of patients from Southern Xinjiang was higher than that of individuals from Northern Xinjiang. The collective findings strongly highlight the overall need to focus on meeting the high demand for barrier-free facilities and assistive devices.
Conclusion
Rehabilitation services offered by the government are not in line with demand. Comprehensive assessment of the rehabilitation requirements of hearing-disability patients, systematic provision of adequate services and training of technical personnel are important measures that should be adopted to alter the present situation and improve treatment options for hearing disabilities in China.