01.01.2019 | Original Contribution | Ausgabe 1/2019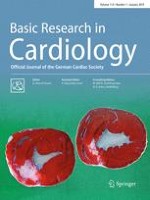 Epigenetically modified cardiac mesenchymal stromal cells limit myocardial fibrosis and promote functional recovery in a model of chronic ischemic cardiomyopathy
Zeitschrift:
Autoren:

Joseph B. Moore IV, Xian-Liang Tang, John Zhao, Annalara G. Fischer, Wen-Jian Wu, Shizuka Uchida, Anna M. Gumpert, Heather Stowers, Marcin Wysoczynski, Roberto Bolli
Wichtige Hinweise
Electronic supplementary material
Abstract
Preclinical investigations support the concept that donor cells more oriented towards a cardiovascular phenotype favor repair. In light of this philosophy, we previously identified HDAC1 as a mediator of cardiac mesenchymal cell (CMC) cardiomyogenic lineage commitment and paracrine signaling potency in vitro—suggesting HDAC1 as a potential therapeutically exploitable target to enhance CMC cardiac reparative capacity. In the current study, we examined the effects of pharmacologic HDAC1 inhibition, using the benzamide class 1 isoform-selective HDAC inhibitor entinostat (MS-275), on CMC cardiomyogenic lineage commitment and CMC-mediated myocardial repair in vivo. Human CMCs pre-treated with entinostat or DMSO diluent control were delivered intramyocardially in an athymic nude rat model of chronic ischemic cardiomyopathy 30 days after a reperfused myocardial infarction. Indices of cardiac function were assessed by echocardiography and left ventricular (LV) Millar conductance catheterization 35 days after treatment. Compared with naïve CMCs, entinostat-treated CMCs exhibited heightened capacity for myocyte-like differentiation in vitro and superior ability to attenuate LV remodeling and systolic dysfunction in vivo. The improvement in CMC therapeutic efficacy observed with entinostat pre-treatment was not associated with enhanced donor cell engraftment, cardiomyogenesis, or vasculogenesis, but instead with more efficient inhibition of myocardial fibrosis and greater increase in myocyte size. These results suggest that HDAC inhibition enhances the reparative capacity of CMCs, likely via a paracrine mechanism that improves ventricular compliance and contraction and augments myocyte growth and function.