29.10.2015 | Original Article | Ausgabe 4/2016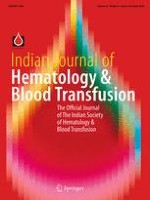 Evaluation of Magnetized-Erythrocyte Group Antigens to Detect ABO Antibodies
Zeitschrift:
Autoren:

O. Nathalang, K. Intharanut, P. Sriwanitchrak, M. Setthakarn, S. Duan, H. Wang, S. Ding, Y. Li
Abstract
Screening for IgM titers of anti-A and anti-B is recommended when providing ABO incompatible platelet transfusion. The life-time of reagent cells depends upon the preservative diluents. We aimed to evaluate the IgM titers of anti-A and anti-B testing with magnetized-erythrocyte group antigens (MEGA) and fresh RBCs and study the relationship of ABO antibody titers between both techniques. Altogether, 100 serum samples from group O donors at the National Blood Centre, Thai Red Cross Society, Bangkok, Thailand were included. EDTA blood from three different A and B blood group individuals was prepared as fresh reagent RBCs and MEGA. Each serum sample was tested simultaneously for IgM anti-A and anti-B titers using fresh RBCs and MEGA by standard tube technique. Antibody titers were compared between both techniques. Test for reproducibility and stability of MEGA were performed. The IgM anti-A and anti-B titers using fresh RBCs yielded higher agglutination scores than MEGA (
P
< 0.001). However, a good correlation was obtained in the agglutination titers (anti-A,
r
= 0.838 and anti-B,
r
= 0.877). The mean and standard deviation of anti-A and anti-B titers using MEGA from five sera in triplicate showed no significant difference (
P
> 0.05). Moreover, the titer test results using MEGA after dilution remained stable up to 8 h. The MEGA can be used as a replacement for fresh RBCs to perform ABO serum grouping. It is simple to use, avoids centrifugation and provides good results in terms of stability and reproducibility.