01.12.2018 | Research article | Ausgabe 1/2018 Open Access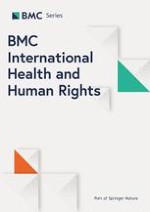 Examination of the roles and capacities of duty bearers responsible for protecting the human rights to adequate food, nutritional health and wellbeing in Ugandan children's homes
Zeitschrift:
Autoren:

Monica Olafsen, Archangel Byaruhanga Rukooko, Per Ole Iversen, Bård A. Andreassen
Wichtige Hinweise
Electronic supplementary material
Abstract
Background
The majority of Ugandan children face vulnerability and malnutrition. As a State Party to international human rights treaties, Uganda has legal obligations of guaranteeing the fundamental rights and the best interest of the nation's children. Despite being protected under international and national law, Uganda is not providing adequate child protection, including safeguarding children's food security. Numerous privately owned and unregulated children's homes face this problem. The overall aim of the study was to examine to what extent children's homes' operations are consistent with the right to adequate food, nutritional health and wellbeing of children.
Methods
We performed a qualitative role- and capacity analysis of duty bearers with human rights duties towards children living in children's homes. We studied three groups of duty bearers: caretakers working in private children's homes, State actors working in government and its institutions, and non-State actors working in civil society organizations. A human rights based approach guided all aspects of the study. An analysis of the roles, performance and capacities of duty bearers was employed, with individual face-to-face structured qualitative in-depth interviews, self-administered structured questionnaires, and a structured observational study, as well as a desk review of relevant literature.
Results
The State of Uganda's efforts to respect and realize its obligations towards children living in children's homes is inadequate. There are numerous capacity gaps among the duty bearers, and the concepts of human rights and the best interest of the child are not well understood among the duty bearers.
Conclusion
The efforts of the State of Uganda to realize its human rights obligations towards children in children's homes are lacking in important areas. Hence the State does not fulfill its minimum obligations under the International Covenant on Economic, Social and Cultural Rights to ensure all children freedom from hunger. There is a need for capacity development at all levels in the Ugandan state and the international society to delimit capacity gaps in order to realize these human rights' obligations.