01.12.2017 | Research | Ausgabe 1/2017 Open Access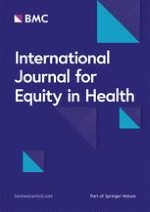 Expectations of health care quality among rural Maya villagers in Sololá Department, Guatemala: a qualitative analysis
Zeitschrift:
Autoren:

Matthew Ippolito, Anita Chary, Michael Daniel, Joaquin Barnoya, Anne Monroe, Michelle Eakin
Abstract
Background
Indigenous populations in Latin America have worse health outcomes than their nonindigenous counterparts. Differences in access to and use of biomedical resources may explain some of the observed disparities. Efforts to address these differences could be aided in part by better understanding the socio-medical contexts in which they occur.
Methods
We performed a qualitative analysis of field notes collected during a 2008 program evaluation of a health post in a rural Maya village in Sololá Department, Guatemala. Forty-one interviews were conducted among a community-based convenience sample of adult men and women. Interviews focused on experiences, perceptions, and behaviors related to the local biomedical and ethnomedical health care resources.
Results
Penetrance of the local health post was high, with most (90%) of respondents having accessed it within the prior five years. The prevailing attitude toward the health post was positive. We identified facilitators and barriers to health post use that corresponded with three thematic areas: clinic operations, visits and consultations, and medical resources. Proximity to the home, free consultations and medications, and social support services were among the most commonly cited facilitators. Barriers included limited clinic hours, medication stock-outs, provision of care that did not meet patient expectations, and unavailability of diagnostic tests.
Conclusions
In a rural Maya community in Guatemala, operational and quality-based factors, independent of sociocultural considerations, informed the perception of and decision to access biomedical resources. Interventions that address these factors may increase health care utilization and alleviate some of the health disparities that accompany indigeneity in Guatemala and similar contexts.