01.12.2018 | Research article | Ausgabe 1/2018 Open Access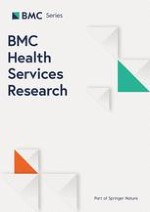 Exploring role clarity in interorganizational spread and scale-up initiatives: the 'INSPIRED' COPD collaborative
Zeitschrift:
Autoren:

Olivia Ly, Shannon L. Sibbald, Jennifer Y. Verma, Graeme M. Rocker
Abstract
Background
Role clarification is consistently documented as a challenging process for inter professional healthcare teams, despite being a core tenet of interprofessional collaboration. This paper explores the role clarification process in two previously unexplored contexts: i) in the dissemination phase of a quality improvement (QI) program, and ii) as part of interorganizational partnerships for the care of chronic disease patients.
Methods
A secondary analysis using asynchronous purposive coding was conducted on an innovative pan-Canadian Chronic Obstructive Pulmonary Disease QI program.
Results
Our study reveals that the iterative structure of QI initiatives in the spread phase can offer numerous unique benefits to role clarification, with the potential challenge of time commitment. In addition, the role clarification process within interorganizational partnerships proved to be relatively well-structured, characterized by three phases: relationship conceptualization or early contact, familiarization, and finally, role division. Common strategies in the last stage included the establishment of working groups and new information-sharing networks.
Conclusion
This article characterizes some ways in which providers and organizational partners negotiate their roles in a changing professional environment. As the movement towards integrated care continues, issues of role clarity are assuming increasing importance in healthcare contexts, and understanding role dynamics can provide valuable insight into the optimization of QI initiatives.