01.12.2017 | Research article | Ausgabe 1/2017 Open Access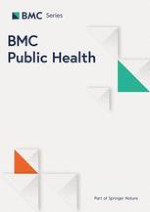 Exposure to hepatitis C virus in homeless men in Central Brazil: a cross-sectional study
Zeitschrift:
Autoren:

Priscilla Martins Ferreira, Rafael Alves Guimarães, Christiane Moreira Souza, Lara Cristina da Cunha Guimarães, Cleiciane Vieira de Lima Barros, Karlla Antonieta Amorim Caetano, Giovanni Rezza, Lila Spadoni, Sandra Maria Brunini
Abstract
Background
Homeless men are highly vulnerable to acquisition of the hepatitis C virus (HCV) compared to the general population. In Brazil, a country of continental dimensions, the extent of HCV infection in this population remains unknown. The objective of this study is to investigate the epidemiological profile of exposure to HCV in homeless men in Central Brazil.
Methods
A Cross-sectional study was conducted in 481 men aged over 18 years attending therapeutic communities specialized in the recovery and reintegration of homeless people. Participants were tested for anti-HCV markers using rapid tests. Poisson regression analysis was used to verify the risk factors associated with exposure to HCV.
Results
The prevalence of HCV exposure was 2.5% (95.0% CI: 1.4 to 4.3%) and was associated with age, absence of family life, injection drug use, number of sexual partners, and history of sexually transmitted infections (STI). Participants reported multiple risk behaviors, such as alcohol (78.9%), cocaine (37.1%) and/or crack use (53.1%), and inconsistent condom use (82.6%). Injection drug use was reported by 8.7% of participants.
Conclusions
The prevalence of HCV infection among homeless men was relatively high. Several risk behaviors were commonly reported, which shows the high vulnerability of this population. These findings emphasize the need for the development of specific strategies to reduce the risk of HCV among homeless men.