01.03.2018 | Original Paper | Ausgabe 3/2018 Open Access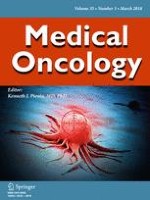 Expression of gremlin1 in gastric cancer and its clinical significance
Zeitschrift:
Autoren:

Yoichi Yamasaki, Sumiya Ishigami, Takaaki Arigami, Yoshiaki Kita, Yasuto Uchikado, Hiroshi Kurahara, Yuko Kijima, Kosei Maemura, Shoji Natsugoe
Abstract
As an antagonist of bone morphogenetic proteins (BMPs), 2, 4 and 7, gremlin1 plays a role in regulating organogenesis, tissue differentiation and angiogenesis. However, there is little information regarding gremlin1 in gastrointestinal cancer. We attempted to clarify how gremlin1 expression affects the clinical features and biological properties of gastric cancer. A total of 232 gastric cancer patients who received R0 gastrectomy at Kagoshima University Hospital were enrolled. Gremlin1 expression in gastric cancer was detected by immunohistochemical and western blotting methods. Correlations between clinicopathological parameters and gremlin1 expression were analyzed. Gremlin1 was identified in the cytoplasm and nucleus of all gastric cancer cell lines and some regions of surgical specimens of gastric cancer. One hundred and seventeen of the 232 patients (50.4%) were classified as gremlin1-positive based on gremlin1 expression. Gremlin1 positivity was correlated with shallower tumor depth, smaller tumor size, less nodal involvement and vessel invasion (
p
< 0.05). The 5-year survival rate of the gremlin1-positive group was 81%, which was significantly higher than the gremlin1-negative group (
p
< 0.01). Multivariate analysis revealed that gremlin1 was not selected as an independent prognostic marker. Gremlin1 expression in gastric cancer may be a useful prognostic marker that is involved with the BMP signaling pathway. Furthermore, gremlin1 may have clinical use as a diagnostic and treatment tool.