06.08.2018 | Original Article | Ausgabe 3-4/2018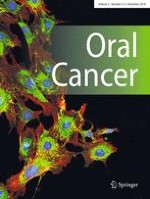 Factors affecting postoperative removal of nasogastric tube and tracheostomy tube in oral cancer: a retrospective analysis of 234 cases
Zeitschrift:
Autoren:

Prateek V. Jain, Kapila Manikantan, Dipanwita Roy, Pattatheyil Arun
Abstract
Introduction
Prolonged use of nasogastric and tracheostomy tubes in the postoperative period is a major cause of morbidity after surgery for oral cancer and prolongs discharge from hospital. In this study, we sought to determine the variables that predict prolongation of nasogastric and tracheostomy tubes in patients undergoing surgery for squamous cell carcinoma of the oral cavity.
Methods
Data from 234 patients who underwent surgery for oral squamous cell carcinoma were retrospectively analyzed for patient variables including oral cavity sub-site, T stage, extent of surgical resection, need and type of reconstruction and adjuvant treatment.
Results and discussion
The sample was composed of 234 patients with a mean age of 53.08 years (range 24–85 years) and 29% were women. Median duration for removal of nasogastric tube and tracheostomy tube after surgery was 15 days (
n
 = 234, range 6–897 days) and 7 days (
n
 = 111, range 2–160 days), respectively. Performance of reconstructive procedures (15 vs 9 days,
p
 = 0.003) was the only significant factor affecting nasogastric tube removal. Tracheostomy tube removal was affected by age and tongue as the primary site (19 vs 7 days,
p
 = 0.009). Delay in removal of tracheostomy tube and nasogastric tube delayed discharge of the patients from hospital (12 mean days, range 1–35 days).
Conclusion
Use of flaps for reconstruction impedes oral feeding in postoperative period, while delayed decannulation is seen in older patients and in patients operated for carcinoma of the tongue. Delay in decannulation and nasogastric tube removal prolonged the hospital stay of the patients.