09.12.2015 | Ausgabe 5/2016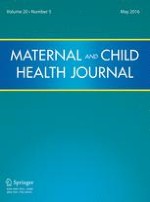 Factors Associated with Early Pregnancy Smoking Status Among Low-Income Smokers
Zeitschrift:
Autoren:

Victoria H. Coleman-Cowger, Bartosz Koszowski, Zachary R. Rosenberry, Mishka Terplan
Abstract
Objectives
To compare pregnant women who are current smokers at their first prenatal visit with those who recently quit smoking in the 90 days prior to their first prenatal visit (i.e., spontaneous quitters) to identify differences between them and factors that predict their intake smoking status.
Methods
One hundred and thirty participants were enrolled in this cross-sectional research study. The sample was drawn from a population of pregnant women attending their first prenatal visit at a low-income obstetrics clinic in Baltimore, Maryland; the large majority of which have characteristics that previous research has identified as putting them at high-risk of continued smoking during pregnancy. Participants were recruited through referrals from clinical staff. Intake data collection occurred between March and December, 2013.
Results
Of the 130 pregnant women enrolled in the study, 126 had complete intake data. The sample included 86 current smokers and 40 recent quitters. The large majority of participants were African American with an average age of 26. Current smokers were significantly more likely than recent quitters to have: more depression symptoms; self-perceived stress; internalizing and externalizing disorder symptoms; substance use disorders; and tobacco dependence. The most significant predictors of smoking status at first prenatal visit were depressive symptoms, readiness to quit, and number of children.
Conclusions for Practice
Differences were identified at intake among this sample of pregnant women already considered to be at high-risk for continued smoking throughout their pregnancy. This study identified relevant factors associated with whether or not a woman had recently quit smoking in early pregnancy or was continuing to smoke at her first prenatal visit. Knowledge of these factors may benefit physicians in understanding and promoting smoking cessation throughout the perinatal period and specifically intervening to decrease depressive symptoms and increasing readiness to quit may improve outcomes.