01.12.2015 | Research article | Ausgabe 1/2016 Open Access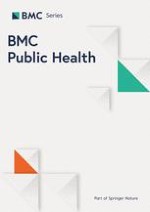 Factors associated with unprotected anal sex with multiple non-steady partners in the past 12 months: results from the European Men-Who-Have-Sex-With-Men Internet Survey (EMIS 2010)
Zeitschrift:
Autoren:

Sarah C. Kramer, Axel Jeremias Schmidt, Rigmor C. Berg, Martina Furegato, Harm Hospers, Cinta Folch, Ulrich Marcus, for the EMIS Network
Wichtige Hinweise
Organisations in the EMIS network are listed in the Acknowledgments.
Authors' contributions
The survey was designed and executed by A.J.S., U.M., H.H. and C.F. in association with The EMIS Network (see Acknowledgements). U.M. initiated the study and A.J.S. coordinated the study. A first draft on sexual risk was written by H.H.. The analysis was then re-designed from S.C.K. with suggestions from U.M., R.B. and M.F.. S.C.K. conducted the statistical analysis. A new manuscript was drafted by S.C.K. and U.M.. This second draft was then repeatedly revised and co-authored by all other authors. All authors approved the final manuscript.
Competing interests
The authors declare that they have no competing interests.
Abstract
Background
Practising unprotected anal intercourse (UAI) with high numbers of partners is associated with increased risk for acquiring and transmitting HIV and other sexually transmitted infections. Our aim was to describe factors associated with UAI with multiple partners in a large sample of MSM from 38 European countries recruited for an online survey in 2010.
Methods
Data are from the European Men-Who-Have-Sex-With-Men Internet Survey (EMIS). The analysis was restricted to men who reported any anal sex with a non-steady partner in the past 12 months, and who were either never diagnosed with HIV, or who had been diagnosed with HIV more than 12 months ago, reported a detectable viral load and did not exclusively serosort (
n
 = 91,477). Multivariable logistic regression was used to compare men reporting UAI with four or more (4+) non-steady partners to two comparison groups: a) no UAI with non-steady partners, and b) UAI with 1-3 non-steady partners.
Results
Overall, 9.6 % of the study population reported UAI with 4+ partners in the past 12 months. In both models, factors consistently associated with this behaviour were: having been diagnosed with HIV, lower educational levels, use of nitrite inhalants, drugs associated with sex and parties, or erectile dysfunction drugs in the past 4 weeks, using sex-on-site venues in the past 4 weeks, buying or selling sex in the past 12 months, having experienced physical violence due to sexual attraction to men in the past 12 months, reporting sexual happiness, being out to all or almost all of one's acquaintances, and knowing that ART reduces HIV transmissibility.
Conclusions
Effective antiretroviral treatment drastically reduces HIV transmission for men diagnosed with HIV, irrespective of partner numbers. Apart from reducing partner numbers or increasing condom use no other recommendations are currently in place to reduce the risk of HIV acquisition and onward transmission for HIV-negative men practicing UAI with multiple partners. A range of factors were identified as associated with UAI with four or more partners which allow the strengthening and targeting of prevention strategies to reduce HIV transmission risks resulting from condomless anal intercourse with multiple partners.