01.12.2017 | Case report | Ausgabe 1/2017 Open Access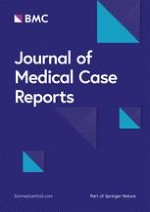 Gamma-aminobutyric acid-B limbic encephalitis and asystolic cardiac arrest: a case report
Zeitschrift:
Autoren:

Christopher A. Ovens, Angelo Jayamanne, Andrew Duggins
Abstract
Background
Gamma-aminobutyric acid-B receptor autoantibodies are becoming an increasingly recognized contributor to the spectrum of autoimmune limbic encephalitis. They are classically associated with seizures and behavioral disturbance, and may coexist with other autoantibodies. Many are paraneoplastic, most commonly associated with small cell lung cancer. Until now there have been no reports of cardiac dysrhythmias in these patients.
Case presentation
A 65-year-old Caucasian man presented with multiple seizures, dysarthria and behavioral disturbance of unclear etiology, with associated asystolic cardiac arrest. Antibody testing showed anti-Gamma-aminobutyric acid-B receptor and anti-Hu antibodies in serum and Gamma-aminobutyric acid-B receptor autoantibodies in cerebrospinal fluid. The diagnosis of small cell lung cancer was subsequently made after lung biopsy, and the patient showed improvement with chemotherapy and intravenous immunoglobulin.
Conclusions
We present the case of a patient with Gamma-aminobutyric acid-B receptor limbic encephalitis associated with asystolic cardiac arrest, an association not previously described. This case illustrates how difficult it is to make the diagnosis on clinical grounds alone. We therefore propose more routine antibody testing in patients with similar symptomatology who remain undifferentiated after initial workup. We also recommend that in the acute setting, patients with Gamma-aminobutyric acid-B receptor encephalitis should receive cardiac monitoring, as further research is required to clarify its possible link with cardiac dysrhythmias.