15.09.2020 | Case report | Ausgabe 1/2021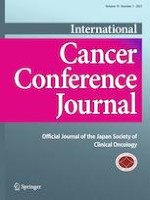 Gastric glomus tumor with a preoperative diagnosis by endoscopic ultrasonography-guided fine needle aspiration: a case report
Zeitschrift:
Autoren:

Hirofumi Hasuda, Qingjiang Hu, Yu Miyashita, Yoko Zaitsu, Yasuo Tsuda, Yuichi Hisamatsu, Yuichiro Nakashima, Koji Ando, Yasue Kimura, Yuichi Yamada, Eiji Oki, Yoshinao Oda, Masaki Mori
Wichtige Hinweise
Electronic supplementary material
Publisher's Note
Springer Nature remains neutral with regard to jurisdictional claims in published maps and institutional affiliations.
Abstract
A gastric glomus tumor (GGT) is a rare gastric submucosal tumor that can become malignant. A preoperative diagnosis would allow for a more informed decision regarding the treatment strategy. We present the case of an asymptomatic man with a GGT that was diagnosed during a preoperative examination. Upper gastrointestinal endoscopy was performed in a 64-year-old man and revealed a submucosal tumor at the lesser curvature of the antrum of the stomach. Endoscopic ultrasonography showed a 12-mm-sized hypoechoic tumor in the second and third layers of the stomach wall. A histologic diagnosis of GGT was made using endoscopic ultrasonography-guided fine needle aspiration (EUS-FNA). Abdominal contrast-enhanced computed tomography was performed, but the identification of the tumor was difficult owing to poor enhancement. The gradual growth of the tumor made it necessary to perform an operation. Laparoscopy and endoscopy cooperative surgery was performed without any complications. The tumor cells were immunohistochemically positive for alpha-smooth muscle actin, h-caldesmon, and collagen type IV but were negative for desmin, discovered on GIST-1, S-100 protein, cluster of differentiation 34, epithelial membrane antigen, and cytokeratin AE1/AE3. The final diagnosis was identical to the preoperative diagnosis made using EUS-FNA. EUS-FNA is a useful method for the preoperative diagnosis of small submucosal tumors, including GGTs.