01.12.2012 | Research | Ausgabe 1/2012 Open Access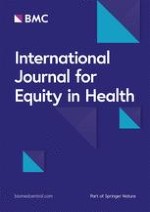 Gender differential on characteristics and outcome of leprosy patients admitted to a long-term care rural hospital in South-Eastern Ethiopia
Zeitschrift:
Autoren:

José M Ramos, Miguel Martínez-Martín, Francisco Reyes, Deriba Lemma, Isabel Belinchón, Félix Gutiérrez
Wichtige Hinweise
Competing interests
The authors declare that they have no competing interests.
Authors' contributions
IB did the literature review and wrote the introduction. FR and DL review the cases. JMR and MMM wrote the methods section and carried out the data analysis. JMR, MMM and FG wrote the Results and Conclusions sections. JMR, MMM, DL, IB, FG, read and approved the final manuscript.
Abstract
Introduction
In previous studies, women are less aware of causation and symptoms of leprosy and have less access to health care coverage than men, thus contributing to their delay in seeking for treatment. We assess the gender differences in leprosy cases admitted to a rural referral hospital in Ethiopia for 7 and a half years.
Methods
Retrospective data of the leprosy patients admitted to referral hospital were collected using leprosy admission registry books from September 2002 to January 2010. Variables were entered in an Excel 97 database.
Results
During the period of study, 839 patients with leprosy were admitted; 541 (64.5%) were male, and 298 (35.6%) female. Fifteen per cent of female patients, and 7.3% of male patients were paucibacillary leprosy cases while 84.8% of female patients and 92.7% of males were multibacillary leprosy cases (p<0.001). Female leprosy patients were younger than male ones (median: 36 versus 44 years) (p<0.001). In the multivariate analysis, age (odds ratio [OR]: 0.97; 95% confidence interval [CI]: 0.96-0.98; p<0.001), admission for cardiovascular diseases (OR: 7.6, 95% CI: 1.9-29.3; p=0.004), admission for gastroenteritis (OR: 14.0; 95% CI: 1.7-117; p=0.02), admission from out patients clinic (OR: 2.04; 95% CI: 1.1-4.01; p=0.02), and mortality as final outcome (OR: 3.1, 95% CI: 1.2-8.0; p=0.02) were independently associated with female gender.
Conclusions
Female patients with leprosy admitted to hospital were younger, had a different profile of admission and a higher mortality rate than male ones.