01.12.2018 | Research article | Ausgabe 1/2018 Open Access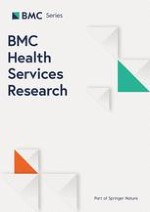 General service and child immunization-specific readiness assessment of healthcare facilities in two selected divisions in Bangladesh
Zeitschrift:
Autoren:

Md. Shajedur Rahman Shawon, Gourab Adhikary, Md. Wazed Ali, Md. Shamsuzzaman, Shahabuddin Ahmed, Nurul Alam, Katya A. Shackelford, Alexander Woldeab, Stephen S. Lim, Aubrey Levine, Emmanuela Gakidou, Md. Jasim Uddin
Abstract
Background
Service readiness of health facilities is an integral part of providing comprehensive quality healthcare to the community. Comprehensive assessment of general and service-specific (i.e. child immunization) readiness will help to identify the bottlenecks in healthcare service delivery and gaps in equitable service provision. Assessing healthcare facilities readiness also helps in optimal policymaking and resource allocation.
Methods
A health facility survey was conducted between March 2015 and December 2015 in two purposively selected divisions in Bangladesh; i.e. Rajshahi division (high performing) and Sylhet division (low performing). A total of 123 health facilities were randomly selected from different levels of service, both public and private, with variation in sizes and patient loads from the list of facilities. Data on various aspects of healthcare facility were collected by interviewing key personnel. General service and child immunization specific service readiness were assessed using the Service Availability and Readiness Assessment (SARA) manual developed by World Health Organization (WHO). The analyses were stratified by division and level of healthcare facilities.
Results
The general service readiness index for pharmacies, community clinics, primary care facilities and higher care facilities were 40.6%, 60.5%, 59.8% and 69.5%, respectively in Rajshahi division and 44.3%, 57.8%, 57.5% and 73.4%, respectively in Sylhet division. Facilities at all levels had the highest scores for basic equipment (ranged between 51.7% and 93.7%) and the lowest scores for diagnostic capacity (ranged between 0.0% and 53.7%). Though facilities with vaccine storage capacity had very high levels of service readiness for child immunization, facilities without vaccine storage capacity lacked availability of many tracer items. Regarding readiness for newly introduced pneumococcal conjugate vaccine (PCV) and inactivated polio vaccine (IPV), most of the surveyed facilities reported lack of sufficient funding and resources (antigen) for training programs.
Conclusions
Our study suggested that health facilities suffered from lack of readiness in various aspects, most notably in diagnostic capacity. Conversely, with very few challenges, nearly all the health facilities designated to provide immunization services were ready to deliver routine childhood immunization services as well as newly introduced PCV and IPV.