01.12.2018 | Research Article | Ausgabe 1/2018 Open Access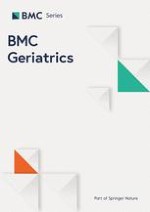 Glial cell line-derived neurotrophic factor (GDNF) attenuates the peripheral neuromuscular dysfunction without inhibiting the activation of spinal microglia/monocyte
Zeitschrift:
Autoren:

Fei Xie, Fan Zhang, Su Min, Jingyuan Chen, Jun Yang, Xin Wang
Abstract
Background
Peripheral neuromuscular dysfunctions were found in elderly individuals, and spinal microglia/monocyte plays an important role on this process. This study aims to test whether the glial cell line-derived neurotrophic factor (GDNF) could attenuate age-related neuromuscular dysfunction by inhibiting the activation of spinal microglia/monocyte.
Methods
Male Sprague-Dawley rats were divided into an adult group and an aged group. The aged rats were intrathecally injected with normal saline (NS) and GDNF. All the rats were harvested 5 days after each injection. The muscular function was tested by compound muscle action potential, and the activation of microglia/monocyte was detected by immunofluorescence staining; cytokines were assayed by enzyme-linked immunosorbent assay; the expression level of GDNF and its known receptor GFR-α in the spinal cord, the expression level of neuregulin-1 (NRG-1) in the sciatic nerve, and the expression level of γ- and α7- ε-nicotinic acetylcholine receptors in the tibialis anterior muscle were measured by western blotting.
Results
The activated microglia/monocyte was found in the aged rats compared to the adult rats. The aged rats showed a significant neuromuscular dysfunction and cytokine release as well as increased expression of γ- and α7-nAChR. The protein expression of GDNF, GFR-α, and NRG-1 in the aged rats were significantly lower than that in the adult rats. However, the exogenous injection of GDNF could alleviate the neuromuscular dysfunction but not inhibit the activation of spinal microglia/monocyte. Furthermore, the levels of GFR-α and NRG-1 also increased after GDNF treatment.
Conclusion
The GDNF could attenuate the age-related peripheral neuromuscular dysfunction without inhibiting the activation of microglia/monocyte in the spinal cord.