11.01.2017 | Original Research | Ausgabe 3/2017 Open Access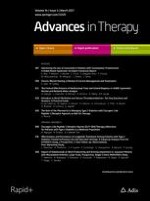 Glucagon-Like Peptide-1 Receptor Agonist (GLP-1RA) Therapy Adherence for Patients with Type 2 Diabetes in a Medicare Population
Zeitschrift:
Autoren:

Hiep Nguyen, Robert Dufour, Amanda Caldwell-Tarr
Abstract
Introduction
Anti-diabetes medication regimen adherence is a clinical challenge in elderly patients with type 2 diabetes (T2D) and other comorbidities associated with aging. Glucagon-like peptide-1 receptor agonists (GLP-1RA) therapies such as exenatide once weekly (QW), exenatide twice daily (BID), and liraglutide once daily (QD) are an increasingly used class of drugs with proven efficacy and tolerability. Real-world evidence on adherence to GLP-1RAs in elderly or disabled patients is limited. To further the understanding of this drug class, the current study examined medication adherence in Medicare patients aged ≥65 years with T2D initiating a GLP-1RA.
Methods
This retrospective cohort study used medical and pharmacy claims between 2010 and 2013 for Medicare members in a United States health plan diagnosed with T2D who were new initiators of either exenatide QW (
n
= 537), exenatide BID (
n
= 923), or liraglutide QD (
n
= 3,673). Included patients were between the ages of 65 and 89 and were continuously enrolled for 6 months pre- and post-index. Medication adherence was examined during the post-index period using proportion of days covered (PDC) ≥80% and ≥90%.
Results
A significantly higher percentage of patients receiving exenatide QW had a PDC ≥80% (43.2%) versus exenatide BID (39.0%,
P
< 0.01) and liraglutide QD (35.0%,
P
< 0.001). The patients receiving exenatide QW were significantly more likely to reach a PDC of ≥90% (37.2%,
P
< 0.001) than those initiating exenatide BID (20.6%) or liraglutide QD (23.3%).
Conclusions
While results from this retrospective study suggest room for improvement in adherence to GLP-1RAs, medication adherence rates for patients initiating therapy with exenatide QW were higher than patients initiating therapy with exenatide BID or liraglutide QD. Further research is needed to validate these findings in other T2D patient populations.
Funding:
AstraZeneca Pharmaceuticals.