01.12.2016 | Research article | Ausgabe 1/2016 Open Access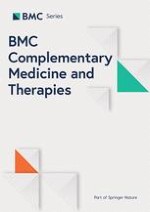 Homeopathic medical practice for anxiety and depression in primary care: the EPI3 cohort study
Zeitschrift:
Autoren:

Lamiae Grimaldi-Bensouda, Lucien Abenhaim, Jacques Massol, Didier Guillemot, Bernard Avouac, Gerard Duru, France Lert, Anne-Marie Magnier, Michel Rossignol, Frederic Rouillon, Bernard Begaud, for the EPI3-LA-SER group
Wichtige Hinweise
Competing interests
Lamiae Bensouda-Grimaldi was the recipient of a research fellowship grant from INSERM (French National Institute of Health and Medical Research) at the time of the study. All authors, members of the LASER-Research network, have no commercial or other interest in any drug or products mentioned in this study. This study was sponsored by Laboratoires Boiron, France, and run independently by the authors who take the sole responsibility for the study design, data collection, analyses, interpretation, and writing of the manuscript.
Authors' contributions
All authors are members of the scientific committee that developed the study protocol and the analyses plan, discussed and interpreted the results and revised the manuscript. MR drafted the manuscript. LBG supervised all operational aspects of the study including recruitments, data collection and management. MR supervised data analyses. All authors read and approved the final manuscript.
Abstract
Background
The purpose of the study was to compare utilization of conventional psychotropic drugs among patients seeking care for anxiety and depression disorders (ADDs) from general practitioners (GPs) who strictly prescribe conventional medicines (GP-CM), regularly prescribe homeopathy in a mixed practice (GP-Mx), or are certified homeopathic GPs (GP-Ho).
Methods
This was one of three epidemiological cohort studies (EPI3) on general practice in France, which included GPs and their patients consulting for ADDs (scoring 9 or more in the Hospital Anxiety and Depression Scale, HADS). Information on all medication utilization was obtained by a standardised telephone interview at inclusion, 1, 3 and 12 months.
Results
Of 1562 eligible patients consulting for ADDs, 710 (45.5 %) agreed to participate. Adjusted multivariate analyses showed that GP-Ho and GP-Mx patients were less likely to use psychotropic drugs over 12 months, with Odds ratio (OR) = 0.29; 95 % confidence interval (CI): 0.19 to 0.44, and OR = 0.62; 95 % CI: 0.41 to 0.94 respectively, compared to GP-CM patients. The rate of clinical improvement (HADS <9) was marginally superior for the GP-Ho group as compared to the GP-CM group (OR = 1.70; 95 % CI: 1.00 to 2.87), but not for the GP-Mx group (OR = 1.49; 95 % CI: 0.89 to 2.50).
Conclusions
Patients with ADD, who chose to consult GPs prescribing homeopathy reported less use of psychotropic drugs, and were marginally more likely to experience clinical improvement, than patients managed with conventional care. Results may reflect differences in physicians' management and patients' preferences as well as statistical regression to the mean.