01.12.2019 | Case report | Ausgabe 1/2019 Open Access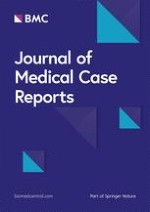 Human astrovirus infection associated with encephalitis in an immunocompetent child: a case report
Zeitschrift:
Autoren:

Georgia Koukou, Sandra Niendorf, Britt Hornei, Jan-U Schlump, Andreas C. Jenke, Sonja Jacobsen
Wichtige Hinweise
Publisher's Note
Springer Nature remains neutral with regard to jurisdictional claims in published maps and institutional affiliations.
Abstract
Background
Until today, classic human astroviruses have not been associated with central nervous system infections in immunocompetent patients.
Case presentation
A 16-month-old Caucasian girl presented with repetitive generalized seizures with a 4-day history of watery diarrhea, which had already gradually improved. Initially, the prolonged seizures ceased after systemic midazolam treatment and were thought to be fever associated. However, her mental status remained altered, and after seizure recurrence, she was transferred to our pediatric intensive care unit. Seizure control was achieved by a combination of high-dose levetiracetam and phenobarbital, but she remained unconscious. An electroencephalogram at this time revealed generalized high voltage theta activity. All laboratory analyses, including extended blood and cerebrospinal fluid analyses, and a brain magnetic resonance imaging were normal.
On day 4, the child gradually became conscious, but was very agitated and not able to walk. Since an electroencephalogram at this time still revealed generalized high voltage theta activity, although she had not received sedative medications for 72 hours, she was diagnosed as having encephalopathy. At that time, results of diagnostic testing of the stool sample were positive for classic astrovirus infection, and we decided to analyze the initially obtained cerebrospinal fluid for astrovirus as well. Cerebrospinal fluid was also found positive for human astrovirus. Sequencing analysis revealed a classic astrovirus genotype 1 with exactly the same nucleotide sequence as in the feces. Clinically, the child gradually improved and was discharged on day 9.
Conclusions
Whereas the new human astrovirus subtypes have been recently associated with central nervous system infection, this is the first case of encephalitis in an immunocompetent child due to classic human astrovirus. Considering that classic human astroviruses are the third most common etiological agents of viral gastroenteritis in children, we believe that human astroviruses as causative agents for central nervous system infections should be considered more often, especially in children and infants with preceding gastroenteritis.