01.12.2018 | Case report | Ausgabe 1/2018 Open Access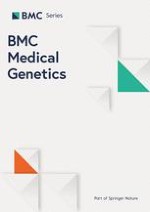 Identification of novel
L2HGDH

mutation in a large consanguineous Pakistani family- a case report
Zeitschrift:
Autoren:

Muhammad Ikram Ullah, Abdul Nasir, Arsalan Ahmad, Gaurav Vijay Harlalka, Wasim Ahmad, Muhammad Jawad Hassan, Emma L. Baple, Andrew H. Crosby, Barry A. Chioza
Abstract
Background
L-2-hydroxyglutaric aciduria (L2HGA) is a progressive neurometabolic disease of brain caused by mutations of in L-2-hydroxyglutarate dehydrogenase (
L2HGDH
) gene. Cardinal clinical features include cerebellar ataxia, epilepsy, neurodevelopmental delay, intellectual disability, and other clinical neurological deficits.
Case presentation
We describe an index case of the family presented with generalised tonic-clonic seizure, developmental delay, intellectual disability, and ataxia. Initially, the differential diagnosis was difficult to be established and a SNP genome wide scan identified the candidate region on chromosome 14q22.1. DNA sequencing showed a novel homozygous mutation in the candidate gene
L2HGDH
(NM_024884.2: c.178G > A; p.Gly60Arg). The mutation p.Gly60Arg lies in the highly conserved FAD/NAD(P)-binding domain of this mitochondrial enzyme, predicted to disturb enzymatic function.
Conclusions
The combination of homozygosity mapping and DNA sequencing identified a novel mutation in Pakistani family with variable clinical features. This is second report of a mutation in
L2HGDH
gene from Pakistan and the largest family with L2HGA reported to date.