01.12.2017 | Research article | Ausgabe 1/2017 Open Access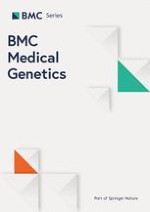 Identification of two novel mutations in the
SLC45A2

gene in a Hungarian pedigree affected by unusual OCA type 4
Zeitschrift:
Autoren:

Lola Tóth, Beáta Fábos, Katalin Farkas, Adrienn Sulák, Kornélia Tripolszki, Márta Széll, Nikoletta Nagy
Abstract
Background
Oculocutaneous albinism (OCA) is a clinically and genetically heterogenic group of pigmentation abnormalities. OCA type IV (OCA4, OMIM 606574) develops due to homozygous or compound heterozygous mutations in the
solute carrier family 45, member 2
(
SLC45A2
) gene. This gene encodes a membrane-associated transport protein, which regulates tyrosinase activity and, thus, melanin content by changing melanosomal pH and disrupting the incorporation of copper into tyrosinase.
Methods
Here we report two Hungarian siblings affected by an unusual OCA4 phenotype. After genomic DNA was isolated from peripheral blood of the patients, the coding regions of the
SLC45A2
gene were sequenced. In silico tools were applied to identify the functional impact of the newly detected mutations.
Results
Direct sequencing of the
SLC45A2
gene revealed two novel, heterozygous mutations, one missense (c.1226G > A, p.Gly409Asp) and one nonsense (c.1459C > T, p.Gln437*), which were present in both patients, suggesting the mutations were compound heterozygous. In silico tools suggest that these variations are disease causing mutations.
Conclusions
The newly identified mutations may affect the transmembrane domains of the protein, and could impair transport function, resulting in decreases in both melanosomal pH and tyrosinase activity. Our study provides expands on the mutation spectrum of the
SLC45A2
gene and the genetic background of OCA4.