01.12.2017 | Original investigation | Ausgabe 1/2017 Open Access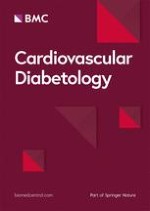 Impact of diabetes on outcome in critical limb ischemia with tissue loss: a large-scaled routine data analysis
Zeitschrift:
Autoren:

Eva Freisinger, Nasser M. Malyar, Holger Reinecke, Holger Lawall
Wichtige Hinweise
Electronic supplementary material
The online version of this article (doi:
10.​1186/​s12933-017-0524-8
) contains supplementary material, which is available to authorized users.
Abstract
Background
Patients with diabetes concomitant to critical limb ischemia (CLI) represent a sub-group at particular risk. Objective of this analysis is to evaluate the actual impact of diabetes on treatment, outcome, and costs in a real-world scenario in Germany.
Methods
We obtained routine-data on 15,332 patients with CLI with tissue loss from the largest German health insurance, BARMER GEK from 2009 to 2011, including a follow-up until 2013. Patient data were analyzed regarding co-diagnosis with diabetes with respect to risk profiles, treatment strategy, in-hospital and long-term outcome including costs.
Results
Diabetic patients received less overall revascularizations in Rutherford grades 5 and 6 (Rutherford grade 5: 45.0 vs. 55.5%; Rutherford grade 6: 46.5 vs. 51.8; p < 0.001) and less vascular surgery (Rutherford grade 5: 13.4 vs. 23.4; Rutherford grade 6: 19.7 vs. 29.6; p < 0.001), however more often endovascular revascularization in Rutherford grade 6 (31.0 vs. 28.1; p = 0.004) compared to non-diabetic patients. Diabetes was associated with a higher observed ratio of infections (35.3 vs. 23.5% Rutherford grade 5; 44.3 vs. 27.4% Rutherford grade 6; p < 0.001) and in-hospital amputations (13.0 vs. 7.3% Rutherford grade 5; 47.5 vs. 36.7% Ruth6; p < 0.001). Diabetes further increased the risk for amputation during follow-up [Rutherford grade 5: HR 1.51 (1.38–1.67); Rutherford grade 6: HR 1.33 (1.25–1.41); p < 0.001], but not for death.
Conclusions
Diabetes increases markedly the risk of amputation attended by higher costs in CLI patients with tissue loss (OR 1.67 at Rutherford 5, OR 1.53 at Rutherford 6; p < 0.001), but is associated with lower revascularizations. However, in Rutherford grades 5 and 6, concomitant diabetes does not further worsen the overall poor survival.