18.08.2017 | Ausgabe 3/2017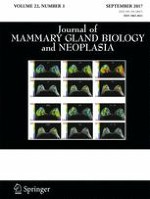 In Vitro Validation of the Hippo Pathway as a Pharmacological Target for Canine Mammary Gland Tumors
Zeitschrift:
Autoren:

Samantha Guillemette, Charlène Rico, Philippe Godin, Derek Boerboom, Marilène Paquet
Abstract
Canine mammary tumors (CMTs) are the most common neoplasms in intact female dogs. Some clinical and molecular similarities between certain CMT subtypes and breast cancer make them a potential model for the study of the human disease. As misregulated Hippo signaling is thought to play an important role in breast cancer development and also occurs in CMTs, we sought to determine if Hippo represents a valid pharmacological target for the treatment of CMTs. Six CMT cell lines were assessed for their expression of the Hippo pathway effectors YAP and TAZ and for their sensitivity to verteporfin, an inhibitor of YAP-mediated transcriptional coactivation. Four cell lines that expressed YAP (CMT-9, −12, −28, −47) were found to be very sensitive to verteporfin treatment, which killed the cells through induction of apoptosis with ED50 values of 14–79 nM. Conversely, two YAP-negative cell lines (CF-35, CMT-25) were an order of magnitude more resistant to verteporfin. Verteporfin suppressed the expression of YAP/TAZ target genes, particularly
CYR61
and
CTGF
, which play important roles in breast cancer development. Verteporfin was also able to inhibit cell migration and anchorage-independent growth. Likewise, verteporfin efficiently suppressed tumor cell invasiveness in the CMT-28 and -47 lines, but not in CF-35 cells. Together, our findings provide proof of principle that pharmacological targeting of the Hippo pathway compromises the viability and attenuates the malignant behavior of CMT cells. These results will serve as the basis for the development of novel chemotherapeutic approaches for CMTs that could translate to human medicine.