01.02.2013 | Original Article | Ausgabe 2/2013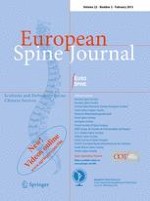 Indication for preoperative MRI of neural axis abnormalities in patients with presumed thoracolumbar/lumbar idiopathic scoliosis
Zeitschrift:
Autoren:

Jun Qiao, Zezhang Zhu, Feng Zhu, Tao Wu, Bangping Qian, Leiei Xu, Yong Qiu
Wichtige Hinweise
J. Qiao and Z. Zhu contributed equally to this work.
Abstract
Purpose
The purpose of this study was to investigate the incidence of neural axis abnormalities in patients with presumed "idiopathic" thoracolumbar or lumbar scoliosis by magnetic resonance imaging (MRI) and try to determine which clinical and radiographic characteristics correlate with neural axis abnormalities on MRI in these patients.
Methods
The database of a single spinal deformity center was retrospectively reviewed to identify all patients with a primary diagnosis of idiopathic scoliosis (IS) between January 2003 and August 2011. A total of 446 patients with main thoracolumbar or lumbar curves were identified. Radiographic parameters including main curve Cobb angles, location of curve apex, span of main curve, thoracic kyphosis (T5–T12), thoracolumbar junction kyphosis (T10–L2), lumbar lordosis (L1–S1), and sagittal and coronal balance were measured.
Results
Neural axis abnormalities were detected in 35 (7.8 %) patients. For patients with neural axis abnormalities, a higher proportion of male gender and long thoracolumbar curves were presented. In these patients, the mean age was smaller and the mean Cobb angle of main curve was larger. Greater thoracic kyphosis (≥30°) was more frequently found in those with neural axis abnormalities. The incidences of thoracolumbar junction hyperkyphosis were similar between two groups (
P
> 0.05). There was no difference between two groups as to lumbar lordosis and coronal and sagittal balance.
Conclusion
We recommend the routine use of MRI in the patients with one or more of the following characteristics: right curves, long curve span, apex at thoracolumbar spine and hyperthoracic kyphosis.