01.12.2016 | Case report | Ausgabe 1/2016 Open Access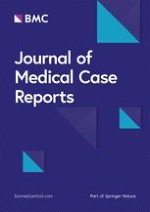 Interaction of interferon alpha therapy with thyroid function tests in the management of hepatitis C: a case report
Zeitschrift:
Autoren:

Gurmit Gill, Hammad Bajwa, Peter Strouhal, Harit N. Buch
Abstract
Background
Interferon alpha is a widely used therapeutic agent in the treatment of hepatitis C virus infection. Clinical thyroid disease is seen in nearly 15 % of patients receiving interferon alpha for hepatitis C virus infection. The mechanism of thyroid dysfunction with interferon alpha is either autoimmune or inflammatory. We report a case of young woman who developed biphasic thyroid dysfunction posing a diagnostic challenge, while receiving interferon alpha treatment for hepatitis C virus infection.
Case presentation
A 29-year-old, Caucasian woman with type 1 diabetes and hepatitis C virus infection was referred with hyperthyroidism, while she was at 17 weeks of a planned 24-week course of interferon alpha therapy. A laboratory investigation revealed a thyroid stimulation hormone level of 0.005 mU/L (0.350–4.94), free thyroxine of 45.6 pmol/L (9.0–19.0) and free tri-iodothyronine of 12.6 pmol/L (2.6–5.7). She had a mild neutropenia and alanine aminotransferase at double the reference value. Her thyroid peroxidase antibody level was 497 ku/L (<5.6) and thyroid inhibitory factor 7 IU/L (>1.8 iu/l is positive). Thyroid scintigraphy with technetium99 scan confirmed a normal-sized thyroid gland with diffuse but normal overall uptake. A diagnosis of interferon alpha-triggered autoimmune hyperthyroidism as opposed to an inflammatory thyroiditis was made. She was offered radioactive iodine therapy, as thionamides were considered inappropriate in view of her liver disease and mild neutropenia. Due to our patient's personal circumstances, radioactive iodine therapy was delayed by 8 weeks and her thyrotoxic symptoms were controlled with beta-blockers alone. A repeat thyroid function test, 4 weeks post treatment with interferon alpha, indicated spontaneous conversion to hypothyroidism with a thyroid stimulation hormone level of 100 mU/L, free thyroxine of 5.2 pmol/L and free tri-iodothyronine of 1.7 pmol/L. She subsequently received levothyroxine for 4 months only and had remained euthyroid for the last 3 months without any treatment.
Conclusions
Initial investigations favored the autoimmune nature of hyperthyroidism but follow-up of the case, interestingly, was more consistent with inflammatory thyroiditis. We propose that this can be explained either on the basis of autoimmune subacute thyroiditis or a change in the nature of thyroid stimulation hormone receptor antibody production from stimulating-type to blocking-type antibodies, with disappearance of the latter on discontinuation of interferon alpha.