01.12.2019 | Study protocol | Ausgabe 1/2019 Open Access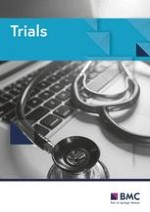 Interventions to promote healthy environments in family child care homes in Oklahoma—Happy Healthy Homes: study protocol for a randomized controlled trial
Zeitschrift:
Autoren:

Susan B. Sisson, Alicia L. Salvatore, Deana Hildebrand, Tiffany Poe, Cady Merchant, Megan Slawinski, Chelsea L. Kracht, Julie A. Stoner, Naneida Alcala Lazarte, Lu Ann Faulkner Schneider, Jennifer Weber, Felecia Jones, Dianne Ward
Wichtige Hinweise
Electronic supplementary material
Publisher's Note
Springer Nature remains neutral with regard to jurisdictional claims in published maps and institutional affiliations.
Abstract
Background
Early childhood is a critical period of development. Caregivers, including providers of early care and education (ECE), have a substantial influence on the health of young children. Family child care homes (FCCHs), which are small, licensed ECE businesses operated out of the residences of providers, are important settings for promoting child health. However, to date, few interventions to promote the health of children have been developed for FCCHs. The purpose of this article is to describe the protocol for Happy Healthy Homes, a pilot interdisciplinary, community-based study to improve FCCH environments and the health of children in Oklahoma. We describe the development and evaluation of two interventions to be tested in a matched attention randomized controlled trial: 1) a nutrition intervention aimed at enhancing the nutritional quality of meals served to young children, incorporating the Child and Adult Care Food Program best practices, and improving nutritional self-efficacy of providers; and 2) an environmental intervention aimed at increasing providers' environmental health literacy, self-efficacy for integrated pest management (IPM), and awareness of less toxic cleaning practices and FCCH provider cleaning behaviors.
Methods
Both interventions are informed by common theoretical principles and are matched in attention (i.e., 6 h), format (i.e., two individual 90-min educational home visits and a 3-h small group class) and materials (i.e., tool kit of educational materials and supplies tailored to the allocated intervention). A randomized trial of both interventions is currently underway with 52 FCCH providers in the Oklahoma City metropolitan area who participate in the Child and Adult Care Food Program. Observed and self-reported measures will be collected at baseline, and 3 months and 12 months after baseline measurements. Randomization to one of the two interventions will occur after baseline data collection.
Discussion
This study aims to support FCCH providers in creating healthier FCCH environments for nutrition and environmental health. Successful completion will provide critical information about the nutritional quality and the environmental health of children in FCCHs, as well as much needed evidence about the efficacy of two community-based interventions to improve the nutrition and environmental health of children in home-based ECE settings.
Trial registration
Clinicaltrials.gov,
NCT03560050
. Retrospectively registered on 23 May 2018.