01.12.2012 | Research article | Ausgabe 1/2012 Open Access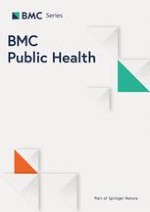 Intimate partner physical violence among women in Shimelba refugee camp, northern Ethiopia
Zeitschrift:
Autoren:

Girmatsion Feseha, Abebe G/mariam, Mulusew Gerbaba
Wichtige Hinweise
Electronic supplementary material
The online version of this article (doi:
10.​1186/​1471-2458-12-125
) contains supplementary material, which is available to authorized users.
Competing interests
The authors declare that they have no competing interests.
Authors' contributions
GF conceived and designed the study, performed analysis and interpretation of data and critically review the manuscript. MG assisted with the design conception, analysis, and interpretation of data and the draft the manuscript.AG assisted the study design, data analysis and interpretation and critically reviewed the manuscript. All authors read and approved the final manuscript.
Background
Despite its increasing global importance, there has been little research on domestic violence against women in Ethiopia. In Ethiopia, even the existing literatures only depicts the prevalence and characteristics of intimate partner violence against women among population found in our communities but, data related to refugee population is limited however; there are evidences that indicate the pervasiveness of the problem. Thus, understanding the magnitude of the problems and the reasons behind intimate partner violence among refugee women is crucial for program planer to design effective preventive strategies.
Methods
Study setting
This cross sectional study was conducted from March to April 2011 in Shimelba refugee camp, found in Tigray regional state, seventy kilometers from the Eritrean border and 1300 kilometers from Addis Ababa. Shimelba refugee camp was established in 2000 and hosts people who fled from Eritrea during the Ethio-Eritrean border conflict of 1998-2000. During the mid-December of 2009, there were 13, 943 Eritrean refugees mainly from the Tigrigna, Kunama and Saho ethnic groups in the study area. The Administration for Refugees/Returnees Affairs reported that about 1,917 women aged between 15-49 years old were living with their partners [
13
].
There are seven zones inside the camp administratively led by the Ethiopian government in collaboration with United Nation Higher Commission for Refugee. Each of the seven zones consists of 274, 308, 264, 251, 211, 343, and 274 women aged 15-49 years old respectively. There is a "central committee" elected by the residing population inside the camp, and the committee represents the refugees on various issues liaising with Non Governmental Organizations and Ethiopian government. Newcomers are expected to construct their own shelter by using locally available material. Refugees are not allowed to work outside the camp. As a result, fewer than 10% are employed.
There is no other means of generating income for the women though there are small numbers of beauty salons, restaurants, and retail shops and some refugees have been hired to work at these places. Other refugees have found employment with United Nation Higher Commission for Refugee's implementing partners. When refugees arrive in the camps, they are registered and issued with ration cards. These cards are used as their identification and also for the purpose of food distribution which is provided by United Nation Higher Commission for Refugees in collaboration with World Food Program [
14
].
Study design and sampling
A community based cross sectional study using quantitative method of data collection was employed. All married or cohabiting women found in Shimelba refugee camp during data collection period were recruited as a source population for the study. The study population were a randomly sampled married/cohabitated women residing in camp and those who are living with their partner for at least one year preceding the survey. Census was conducted to select all households in the camp with married women or women who were partnered or cohabited. Households were selected as study unit using simple random sampling method after enumeration and coding was carried out. In case where two or three pairs of partners' were living in the same house a sub number was assigned by taking one reference women with partner and another sub number was given for women with partners' and their name was included with sub number then sampling frame was created.
The sample size was calculated using a single population proportion formula. Since there was no previous study describing on the prevalence of physical violence among married women in study area, to get a maximum sample size we assumed 50% prevalence of intimate partner's physical violence with 95% confidence interval and 5% degree of precision. 10% was added for non response and the final calculated sample was 422. The sample size was proportional allocated to the size of the seven zones. Three repeated visits were attempted in the absence of selected subject at their house.
Measurements
Data were collected using close ended structured questionnaire adapted to local context by reviewing similar literatures done in other refugee camps elsewhere to address the objectives of the study. To keep further validity and make the findings comparable measurement of physical violence was adopted from WHO questionnaire on domestic violence and intimate Partner Violence [
15
–
19
]. Five percent of questionnaires were pre tested to check for consistency, coherence and amended accordingly. The questionnaire contains variables on socio demographic information, the experience of physical violence; family and husband related history. Ten female high school graduates who can speak the local languages (Tigrigna and Kunama) collected the information by going from house to house. Three supervisors were also recruited based on their previous field experience with household surveys. Three days intensive training was given to the data enumerators on how to collect data, when and how to make an interview and about ethical issues, emphasizing on the importance of safety of participants and data quality. To get the outcome of interest lifetime and 12 months experience of intimate partner physical violence was enquired. Specific acts such as throwing objects; pushing, grabbing or shoveling; slapping; punching with fist or something else that can hurt; kicked, bit or hit; hit or tried to hit with something; beat up; chocking; burning or scalding; threatening and/or attacking with a knife, gunning, or other type of weapon were operationally defined as an act of physical violence. Women who reported that their husbands/partners have ever perpetrated at least one of these acts were reported to have experienced physical violence.
Regular supervision of data collection was made by investigators and supervisors. The questionnaires were checked for completeness and consistency and then data were edited, coded, entered, cleaned and analyzed using SPSS software version 16.0. Descriptive analyses such as frequencies, percentages, tables, figures were used to display the results. Bivariate logistic regression was done between each independent variable and outcome of the interest to assess statistical association. Multiple logistic regressions were performed to identify the most significant predictor of physical partner violence and to control for confounders.
Odds ratio and confidence interval with 95% confidence limits and significance level (
P
< 0.05) was used to determine level of significance. The prevalence of physical violence was estimated for two time frames: the 12 months preceding the interview and any time during the woman's life from the time she started relationship with the current intimate partner.
Ethical clearance was obtained first from College of Public Health and Medical Sciences Ethical Review Board, Jimma. In addition, official permission was taken from Administration for Refugees/Returnees Affairs (ARRA) from Addis Ababa and Zonal Office in Shire and finally cooperation letter was written to Shimelba refugee camp to undertake the study. The importance of the study was explained to each respondent, verbal consent was obtained and assurance was given about the confidentiality of the responses taking in to account the guidelines on ethical and safety recommendations for research on domestic violence against women [
20
].
Results
Discussion
The strength of this study is the use of World Health Organization (WHO) instruments for physical violence which is developed enabled to make the comparison of findings with other national and international literatures to be valid. Before conducting this study enumeration of all household was done to identify married women with intimate partners. As limitation outcome was assessed only by the report of respondents. Therefore, under reporting of physical violence was inevitable due to unwillingness of respondents to disclose their personal information. Since this study was a cross sectional it is difficult to establish causes and effect relationships among outcome of interest and explanatory variable. There are also unusual large odds ratio and wide confidence interval observed in this study which might affect the precision. In addition there are also some variables that were not significantly associated with the outcome of interest. This might be due the small sample size to justify the relationships between the explanatory variables and outcome of interest. The observed counts also being small in some of the variables made the odds ratio so large and wide. Therefore any interpretation of this finding within these variables shall take into account the degree of precision. And also all variables associated with physical violence might not be exhaustively investigated. Beside this, since there is limited data in similar set up we are highly obliged to compare some figures with the study with population based survey which might have different circumstance and social, economic and cultural background. Therefore, readers who read this as a reference shall take in to account this as a limitation to the findings.
Conclusions
The findings of this study indicated substantial prevalence of intimate partner physical violence in the last 12 months and life time. Indicating that one out of every four women was physically abused. One third of currently pregnant women were found to be at a risk of Intimate Partner Violence. Intimate partner violence ranged from moderate to severe violence; slapping, thrown something and Kicking/hit/bit was the most common type of physical violence encountered among women by their male partner, which shows women in refugee camp are at risk of physical violence even during pregnancy time. Being farmer, Muslim, knowing women in the neighborhood whose husband to beat them, being a Muslim, living in abusive environment having drunkard and farmer partner were found to be a significant predictors of experiencing physical violence. Therefore, there is a need to mobilize the community in camp and create awareness about the adverse consequences of partner abuse through gender advocacy and formal and/or informal education, employing information education and communication was crucial. Providing job opportunities as well as educating on use of excessive substances as alcohol, and shortening duration of stay in camp could help reduce the violence. Advocating on difference religions to include education about the effect of conflict in family relation and encourage women equality especially to Kunama and Saho ethnics is important.
Encouraging the victims of physical violence to report to legal bodies and specify the areas in which most violence occurs (abusive environment) and provide security and implementing the existing legal punishment by raising the awareness about the prevalence and consequent intimate partner violence on the women and their children. Further analytic study is needed to explore the relationship between violence and different religions, health-seeking behavior of victims of violence, attitude of men on violence of wife and other types of violence against women.
Acknowledgements
Our heartfelt thank go to Jimma University for financial assistance. We extend our deepest gratitude to ARRA and International Rescue Committee members at Shimelba refugee camp and all staffs of UNHCR for facilitating good conditions to carry out the study. Last but not least we thank the study participants who share their priceless time, supervisors, and the data collectors for their full commitment and technical support.
Competing interests
The authors declare that they have no competing interests.
Authors' contributions
GF conceived and designed the study, performed analysis and interpretation of data and critically review the manuscript. MG assisted with the design conception, analysis, and interpretation of data and the draft the manuscript.AG assisted the study design, data analysis and interpretation and critically reviewed the manuscript. All authors read and approved the final manuscript.