01.12.2015 | Research article | Ausgabe 1/2016 Open Access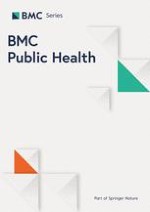 Investigating patients with an immigration background in Canada: relationships between individual immigrant attitudes, the doctor-patient relationship, and health outcomes
Zeitschrift:
Autoren:

Amanda Whittal, Sonia Lippke
Wichtige Hinweise
Electronic supplementary material
The online version of this article (doi:
10.​1186/​s12889-016-2695-8
) contains supplementary material, which is available to authorized users.
Competing interests
The authors declare that they have no competing interests.
Authors' contributions
AW conceived of and designed the project, recruited participants, collected the questionnaires, analyzed the data, and helped draft the manuscript. SL oversaw the project in terms of progress and analysis, provided expertise as a researcher, and helped draft the manuscript. All authors read and approved of the final manuscript. The Bremen International Graduate School of Social Sciences (BIGSSS) is credited with the financial and academic support for making this research possible.
Abstract
Background
Increasing immigration in the world today leads to more intercultural interactions. This is a particularly crucial fact in doctor-patient relationships, which often become more complex and suboptimal within an intercultural context. Since acculturation is a particularly important factor in this process, and the doctor-patient relationship is a key component in patient health outcomes, this study investigates the interrelation of individual immigrant acculturation orientations with the quality of the doctor-immigrant patient relationship, the patients' perceived quality of care, and how this relates to immigrant health behaviours and quality of life of the patients.
Methods
171 immigrant patients of various backgrounds participated in a paper and pencil questionnaire to assess the role of acculturation orientations (AO) on patients' perceived expectations of their doctor, perceived quality of care (PQOC), health behaviours and quality of life. Data were analyzed using ANOVA, regression and correlation procedures with SPSS statistical software.
Results
Significant correlations were found between all AOs and measures of the participant feeling connected to the host or home culture, thereby verifying the measure of AO. All four AOs were significantly interrelated directly with the patient's perception of what the doctor expects of him/her, and the patients' quality of life. Patients' perceived expectations of their doctors were significantly related to the patients' PQOC, and PQOC was associated with improved health behaviours (adherence to doctor recommendations, physical activity maintenance self-efficacy).
Conclusions
AO may be an important factor in the doctor-immigrant patient relationship, via a complex process involving the patients' perceptions of doctors' expectations and perceived quality of care. This has important implications, since such an understanding can be used to create interventions for both doctors and immigrant patients to learn about their own AO, how it can relate to the quality of their relationship, and ultimately, the quality of care, health and quality of life of the patient.