01.02.2008 | Original Paper | Ausgabe 1/2008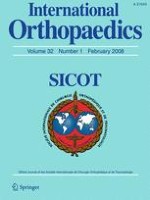 Is ACL reconstruction only for athletes?
A study of the incidence of meniscal and cartilage injuries in an ACL-deficient athlete and non-athlete population – an Indian experience
Zeitschrift:
Autoren:

Clement Joseph, Shirish S. Pathak, M. Aravinda, David Rajan
Abstract
While anterior cruciate ligament (ACL) reconstruction is readily offered to athletes, non-athletes are often treated conservatively. We carried out a retrospective, cross-sectional analysis study to compare the incidence of meniscal and cartilage injuries in an athlete and non-athlete population in relation to time of presentation since injury. The results were used to assess the need and relevance of ACL reconstruction in the non-athlete population. The study included 1375 patients who underwent ACL reconstruction between 1998 and 2004. These patients were initially broadly divided into two categories: athletes (575) and non-athletes (800). Each category was then sub-divided into four subgroups based on time elapsed between the injury and presentation at our clinic (Group A, 3 months; Group B, 3–12 months; Group C, 1–3 years; Group D, more than 3 years). Arthroscopic findings were documented for medial and lateral meniscus and cartilage injuries, and comparisons were made between the incidence of associated injuries in the corresponding groups. There was a statistically significant increase in the incidence of meniscal injuries and cartilage injuries after 1 year in both the groups. There was no difference in the incidence of meniscal and cartilage injuries in athletes and non-athletes among the corresponding groups. (chi-square test,
p
 = 0.05). These results demonstrate that both athletes and non-athletes are equally susceptible for long-term meniscal and cartilage injuries if ACL reconstruction is not carried out early.