01.12.2017 | Primary Research | Ausgabe 1/2017 Open Access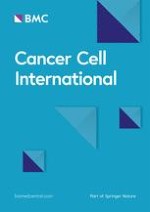 Long non-coding RNA MALAT1 drives gastric cancer progression by regulating HMGB2 modulating the miR-1297
Zeitschrift:
Autoren:

Jijun Li, Jinghua Gao, Wen Tian, Yongsheng Li, Jinghua Zhang
Abstract
Background
Emerging evidences have verified that long non-coding RNAs (lncRNAs) play important regulatory roles in the pathogenesis and progression of cancers. lncRNAs metastasis associated lung adenocarcinoma transcript 1 (MALAT1) have been found to be up-regulated in some human cancers. The main objective of this study was to investigate the expression level and biological function of MALAT1 in gastric cancer (GC).
Methods
Quantificational real-time polymerase chain reaction (qRT-PCR) was performed to detect the mRNA levels of MALAT1 in 78 paired gastric carcinoma tissues and adjacent normal tissues, and the associations of MALAT1 expression with the clinicopathological features were analyzed, and the prognosis of gastric carcinoma patients was evaluated. The HMGB2 mRNA and protein expressions were detected by qRT-PCR and western-blot analysis. Luciferase reporter assay was used to determine miR-1297 was a target of MALAT1.
Results
In this study, we demonstrated MALAT1 was up-regulation in GC tissues compared with adjacent normal tissues and higher MALAT1 expression was correlated with local invasion, lymph node metastasis and TNM stage. Patients with higher MALAT1 expression predicted a shorter survival and poor prognosis. Functionally, we revealed that MALAT1 promoted cells proliferation and invasion in GC. Mechanistically, our results demonstrated that MALAT1 was negatively correlation with miR-1297 and functioned as a molecular sponging miR-1297, antagonizing its ability to suppress HMGB2 expression.
Conclusions
Taken together, these results demonstrated that MALAT1/miR-1297/HMGB2 axis acted as critical regulator pathway in GC tumorigenesis and progression, which provided a novel therapeutic target for gastric cancer.