01.12.2017 | Study protocol | Ausgabe 1/2017 Open Access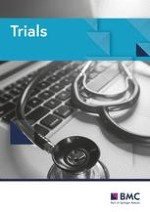 Measurement, Education and Tracking in Integrated Care (METRIC): use of a culturally adapted education tool versus standard education to increase engagement in depression treatment among Hispanic patients: study protocol for a randomized control trial
Zeitschrift:
Autoren:

Katherine Sanchez, Brittany H. Eghaneyan, Michael O. Killian, Leopoldo Cabassa, Madhukar H. Trivedi
Wichtige Hinweise
Electronic supplementary material
The online version of this article (doi:
10.​1186/​s13063-017-2109-y
) contains supplementary material, which is available to authorized users.
Abbreviations
DEF
Depression education
fotonovela
DKM
Depression Knowledge Measure
FQHC
Federally qualified health center
GAD-7
Generalized Anxiety Disorder-7
HHS
U.S. Department of Health and Human Services
LCSW
Licensed clinical social worker
LEP
Limited English proficiency
LSAS
Latino Scale for Antidepressant Stigma
MBIC + DEF
Measurement-based integrated care with depression education
fotonovela
MBIC + SE
Measurement-based integrated care with standard education
MBIC
Measurement-based integrated care
METRIC
Measurement, Education, and Tracking in Integrated Care
NIMH
National Institute of Mental Health
PAQ
Patient Adherence Questionnaire
PHQ-9
9-item Patient Health Questionnaire
PST-PC
Problem Solving Treatment for Primary Care
SCMHC
Stigma concerns about mental health care
Background
Chronic disease and depression
Chronic medical conditions affect nearly half of the people in the United States and two-thirds of encounters with health professionals are for the management of those conditions [
1
]. Effective treatment of chronic illness is complicated and requires significant investment on the part of the patients and their families. More than 300 million people worldwide were living with depression in 2015, making it the leading cause of medical disability in the world, causing significant disease burden and medical cost [
2
]. One in six Americans is afflicted in their lifetime and chronicity is common [
3
].
Adults with chronic medical conditions have high rates of depression and anxiety which often impair self-care and compliance with treatment of their disease [
4
]. For patients with diabetes, depression severity is associated with diabetes complications, medical co-morbidity, greater anxiety, dysthymia, financial worries, social stress, and poorer quality of life [
5
]. Major depression increases the burden of chronic illness by increasing perception of symptoms, causing additional impairment in functioning, and increasing medical cost through over-utilization of the healthcare system [
4
]. Many patients with co-morbid depression and chronic disease may sabotage their own treatment by "focusing on the physical" and delaying treatment of mental health concerns for weeks or months. Such delays in addressing the underlying depression cannot only make remission difficult, but can make treatment of the physical condition challenging [
6
].
Risk factors for Hispanics and depression
A national sample of Hispanics has estimated the prevalence of depression among the population to be 27% [
7
]. Hispanics have double the risk of co-morbid depression and diabetes, with rates as high as 33%, compared with the general population [
8
]. Response to depression treatment in Hispanics is slow and relapse rates are high, which may explain the early discontinuation of medication without consulting their provider [
9
,
10
]. Hispanic patients often voice fears about the addictive and harmful properties of antidepressants, worries about taking too many pills, and the stigma attached to taking medications [
11
,
12
]. In the context of co-morbid chronic disease, depression can be difficult to detect by primary care providers, especially where screening for depression is inconsistent, creating further barriers to treatment [
13
].
Lack of English fluency is associated with reduced healthcare use [
14
]. Limited English proficiency (LEP), limited health literacy, geographic inaccessibility, and lack of medical insurance are all more common among immigrants, minority populations, individuals of low socioeconomic status, and people in rural areas. The citizenship, or legal status of an individual, impacts the extent to which they can secure quality healthcare, as does the level of acculturation and duration of residence in the U.S. [
15
]. Individuals with LEP are less likely to self-identify a need for mental health services, which subsequently predicts lifetime mental healthcare use, and results in longer duration of untreated disorders [
16
,
17
].
Integrated care
Integrated care is a systematic approach to the treatment of depression in primary care that involves systematic screening for depression, the integration of a care manager, with primary care provider oversight and psychiatric consultation, as needed, to more proactively treat mental health problems [
4
]. The primary function of the care manager is to manage the mental health disorders of the patients, monitor their response to treatment, and facilitate communication between the patient, the primary care providers, and the consulting psychiatrist [
18
,
19
]. The functions of the care manager can address significant barriers to treatment such as stigma, limited knowledge of mental health disorders, poor doctor–patient communication, and treatment engagement and adherence, which disproportionately affect racial and ethnic minorities [
19
,
20
]. However, those functions may be limited unless culture specific strategies are employed to engage and retain minority patients and those with LEP in treatment [
21
,
22
].
Patient education
While patient education has been established as essential in chronic disease management [
23
], less is known about its role in engagement and improved outcomes for mental disorders [
24
]. Low health literacy is related to poor management of chronic diseases, lack of basic knowledge about medical conditions and treatments, less understanding and use of preventive services, worse health outcomes, and higher rates of hospitalization and emergency care use [
25
]. However, qualitative evaluation of conceptual models which include comprehensive educational interventions for depressed Hispanics have found patients were optimistic about the benefits of treatment [
26
], especially those which adapt materials for literacy and cultural content, and include homework materials that are linguistically and idiomatically appropriate [
5
].
Aims and objectives
The study aims to examine a novel culturally adapted patient education intervention to increase engagement by Hispanics in depression treatment. The intervention will be implemented after diagnosis using an innovative screening technology and via measurement-based integrated care for the treatment of depression, which will have a substantive impact on reducing mental health disparities in the Hispanic population.
Specific aim 1
Examine the specific effects of a Depression Education
Fotonovela
(DEF) to increase knowledge of depression, reduce stigma, and increase engagement in depression treatment among Hispanic patients.
Specific aim 2
Evaluate the impact of measurement-based integrated care (MBIC) on retention in treatment and remission of depression symptoms in one community-based Federally Qualified Health Center (FQHC) in North Texas whose patient population is majority Hispanic.
Specific aim 3
Examine the feasibility of universal screening and accurate detection of depression among adult primary care patients utilizing innovative iPad Depression Screening technology.
Methods/Design
Discussion
This study protocol describes a randomized control trial testing a culturally adapted depression education intervention designed to reduce stigma and increase disease literacy. The target of the three-part design is to improve detection, diagnosis, and increasing uptake in depression treatment among Hispanics in an integrated care model in a community-based health center. This study addresses the need for both identification and elimination of the barriers to treatment for the most common mental health condition affecting Hispanics. Various other design options were discussed, including testing the
fotonovela
as a discrete intervention, without the context of integrated care. However, with the U.S. Preventive Services Task Force recommendation for universal screening for depression in primary care settings and the emphasis on systems to address positive screens [
61
], the rationale for testing an innovative technology to facilitate screening and implementing an evidence-based treatment model for which there is a lack of studies among minority populations offers a greater opportunity to translate established research into clinical practice. The rationale for designing a complete intervention, while still testing a specific element for which cultural values about mental health may be distinct, appears scientifically feasible, and shows scientific promise.
The strengths and weakness of using a SE control group were carefully considered prior to selection. The primary benefit of the SE control group is that it ensures a comparable contact across the two interventions. As a result, a significant effect observed in the
fotonovela
condition cannot be attributed to differences in contact or participation outcome expectations. A potential concern with the control group is a threat to internal validity due to lack of treatment fidelity and interventionist allegiance. To reduce these concerns, the SE intervention will be manualized (based on NIMH education materials) and intervention fidelity procedures will be the same across the two interventions.
The scope of this project is ambitious, in that we aim to change provider behavior and screen all adult primary care patients for depression. With that in mind, we realize that we will identify a large number of patients whose depression was previously unrecognized. For busy primary care practitioners, this will undoubtedly increase their workload. However, with the support of the DCM and MBIC, the burden of systematic measurement, education about the disease and tracking of outcomes will be reduced. Additionally, we look to offset the potential treatment burden by training the PCPs and their clinic staff in evidence-based treatment guidelines, and through the use of the iPad Depression Screening and Monitoring application. It is anticipated that the recognition and treatment of depression will improve other co-morbid chronic disease and ultimately reduce the overall burden of disease management on the primary care practice.
Trial status
Enrollment for METRIC commenced in February 2016. The estimated completion date of enrollment is January 2018, with 12-month follow-up and data lock by January 2019.
Acknowledgments
The authors would like to thank the producers of the
fotonovela
,
Secret Feelings
, Mel Baron, Pharm.D. and Gregory Molina from the University of Southern California School of Pharmacy. The authors also wish to acknowledge Michael Killian, Ph.D. for statistical consultation regarding the sample size.
Funding
This project was funded by a grant from the National Institute of Health (NIH) National Institute on Minority Health and Health Disparities (NIMHD, 1R15MD010220-01). The REDCap research database was supported by the National Center for Advancing Translational Sciences (NCATS) of the NIH under award number UL1TR001105 via consortium partner UT Southwestern Center for Translational Medicine Service Package Grant (Number: SPG2016 – 017). The content is solely the responsibility of the authors and does not necessarily represent the official views of the NIH.
Availability of data and materials
Not applicable.
Ethics approval and consent to participate
The study protocol was reviewed and approved by the Institutional Review Board (IRB) of the University of Texas at Arlington (IRB reference number 2015-0839). All patients will provide written informed consent prior to participation. Any relevant changes to the protocol will be communicated to the study participants and any adverse events will be reported to the IRB.
Consent for publication
Not applicable.
Competing interests
The authors declare that they have no competing interests.
Publisher's Note
Springer Nature remains neutral with regard to jurisdictional claims in published maps and institutional affiliations.
Open Access
This article is distributed under the terms of the Creative Commons Attribution 4.0 International License (
http://​creativecommons.​org/​licenses/​by/​4.​0/​
), which permits unrestricted use, distribution, and reproduction in any medium, provided you give appropriate credit to the original author(s) and the source, provide a link to the Creative Commons license, and indicate if changes were made. The Creative Commons Public Domain Dedication waiver (
http://​creativecommons.​org/​publicdomain/​zero/​1.​0/​
) applies to the data made available in this article, unless otherwise stated.